Oh, to be the washed linens and sheets
the towels and blouses and trousers,
all the underpinnings of dailiness—all sailing
and flapping on a sturdy line, releasing
their music of fabric to the air—
to be so wind-rinsed and cleansed,
so sun-seeped
down to the deepest thread.  


From Her Joy Becomes (Fernwood Press, 2022).
Used here with permission.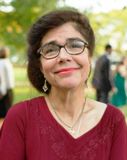 Andrea Potos, who writes in longhand, is a longtime independent bookseller and the author of numerous books; her latest is Her Joy Becomes, from Fernwood Press. Andrea loves reading, travel, cafes, and walking beside lakes and on green trails—"of which there are many," she says, in Madison, Wisconsin, where she lives. Andrea's Greek grandparents and their spirit have been an abiding presence and inspiration throughout her life and poetry.
v
Lori Levy:
I can see the laundry, hear it flapping, smell it. Beautiful!
Posted 06/04/2023 03:03 PM
Sharon Waller Knutson:
We can't have clotheslines out here in the Arizona desert. The cows and wildlife would tear down the line, dirty and eat the clothes.
Posted 06/04/2023 02:14 PM
Victoria:
Love this poem. When I hang out my sheets and towels to dry I always feel sorry for little kids who have never snuggled down into sun dried sheets. What a way to insure sweet dreams.
Posted 06/04/2023 02:06 PM
cork:
I am torn now between the clothesline and the gas dryer. And guilt may govern my choice.
Posted 06/04/2023 11:50 AM
Sharon Waller Knutson:
I am an Andrea Potos fan. I love this delightful unique poem. Too bad clotheslines are obsolete. I remember as a child watching the sheets billowing in the wind and smelling like fresh air and not fabreeze which makes me sneeze.
Posted 06/04/2023 11:39 AM
Shoshauna Shy:
There should be a book comprised of clotheslines!
Posted 06/04/2023 10:58 AM
CamilleBalla:
I can hear the clothes flapping, beng wind-rinsed, so fresh a sound, calling to the energy of the day.
Posted 06/04/2023 10:46 AM
KinVT:
Amen! are poets the last of the clothesline aficionados?? I, too, do not own a clothes dryer. I couldnt imagine life without the scent of laundry taken off the line. Beautiful poem, capturing the joy of clothes on the line!
Posted 06/04/2023 09:54 AM
David:
Nice sentiment wonderfully presented.
Posted 06/04/2023 09:35 AM
peggy.turnbull:
How sweet and lyrical , releasing / their music of fabric to the air. I will think of this lograse throughout clothesline season.
Posted 06/04/2023 08:43 AM
Larry Schug:
You mean there's some other way? We've never owned a clothes dryer. We hang everything inside and let the wood stove do the job, not to mention how funny are cats climbing around on an empty clothes rack But yes, outside is the best. Every line, no pun intended, does its job in this poem.
Posted 06/04/2023 08:14 AM
Angela Hoffman:
love clotheslines. Underpinnings of dailiness!
Posted 06/04/2023 08:08 AM
Joan Luther:
This reminds me of an artistic photographers work.she offers many images with laundry on a cloth pens lines: Jaime Heiden. One is titled it was my sisters turn to do dishes with tea cups etc on the clothes line
Posted 06/04/2023 07:36 AM
liz dolan:
AS YOU KNOW, A FAVORITE TOPIC OF MINE-THE UNDERPININGS OF DAILINESS!
Posted 06/04/2023 07:29 AM
paula:
I love to hang laundry too! Very nice poem.
Posted 06/04/2023 07:13 AM
mail@schoolbusmart.com:
Wonderful, sensual, alliteration-filled, nice word blends (new compound words), and an appreciation for the pacing/ beat of the piece. I've read it several times over. Did I say I like it? Randy Mazie
Posted 06/04/2023 06:43 AM