One year
Allis-Chalmers
sent my dad
on a business trip
to London.

He brought back gifts
he could pack in a suitcase.
Mine was the first album
the Beatles recorded
in England, almost a year
before they appeared
on Ed Sullivan's show.

I was fourteen,
not really cool,
didn't realize the real worth
of what my dad had done.

I sold the album
years later at a yard sale
along with other obsolete
long-playing records.

Even if I sold it for thousands,
that's not what counts.
My dad had paid attention,
cared enough to buy it.
That thought is worth more
than money.
From Son of Norway (Poetry Harbor, 2023).
Used here with permission.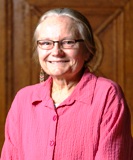 Jan Chronister, now retired from teaching writing, is the author of three full-length poetry collections and seven chapbooks; the latest is. Duluth: Zenith City & Beyond. Gardening keeps her "grounded", as she puts it, and often provides inspiration for her poems. Jan and her husband of 50+ years divide their time between far north Wisconsin and South Georgia; she hopes all future snow poems will be based on hearsay!
Wilda Morris:
Truth indeed!
Posted 06/20/2023 05:39 PM
Anastasia:
What a great memory! Thank you for sharing it!
Posted 06/14/2023 08:17 AM
Jancan:
Ah, yes--the British Invasion. I was crazy about many groups, but only the Beatles were pictured on things I owned, among them a billfold. You're right, back then we were to immature to see the real value of some things. Thanks for taking me back!
Posted 06/13/2023 12:36 AM
tiddles:
Paul was my first love. Saw them in Chicago when I was 13. My dad drove us and picked us up--his gift to me! Love your poem, Jan. Thanks. Marilyn Z. Windau
Posted 06/12/2023 08:42 PM
Lori Levy:
Touching ending.
Posted 06/12/2023 01:13 PM
paradea:
Love this!!
Posted 06/12/2023 10:27 AM
cork:
The first tractor I drove was an Allis-Chalmers. Value cannot always be measured in dollars.
Posted 06/12/2023 09:50 AM
Angela Hoffman:
Sweet gift of love.
Posted 06/12/2023 09:16 AM
Michael:
Marvelous insight and appreciation of your Dad, Jan. Nicely done.
Posted 06/12/2023 08:47 AM
David:
Any poem that combines a tribute to Dad with the Beatles is a hit with me!
Posted 06/12/2023 08:12 AM
HailForTheStorm:
Lovely work!
Posted 06/12/2023 12:37 AM