You gasp as I roar,
my mane EXPLODING, sizzling--
lion of the sky!


From Lion of the Sky: Haiku for all Seasons (Millbrook Press, 2019)
Used with permission.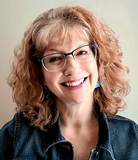 Laura Purdie Salas is the author of more than 135 books for kids and teens, including Bookspeak! Poems About Books and Lion of the Sky: Haiku for All Seasons. She loves to introduce kids to poetry and help them find poems they can relate to, no matter what their age, mood, or personality. When Laura's not reading or writing, she likes to play board/word games, do yoga, work out, watch reality TV, doodle, knit, and play the kalimba (poorly!). Learn more about her at http://laurasalas.com.
Lori Levy:
Great metaphor!
Posted 07/04/2023 06:33 PM
laurasalas:
Thanks, Judy! Happy Fourth, everyone!
Posted 07/04/2023 12:30 PM
Judy:
Wonderful haiku, so clever! I explored your website and really appreciate all of the great info you offer to children's book writers!
Posted 07/04/2023 11:55 AM
cork:
I will look for a lion in the sky tonight.
Posted 07/04/2023 10:19 AM
David:
Thats a blast! Happy 4th!
Posted 07/04/2023 08:27 AM
Joan Luther:
Happy 4th!!
Posted 07/04/2023 08:15 AM