Sit down on this driftwood log,
listen to waves swishing in and out.
Feel their rhythm coordinate with
blood jiving through your veins.

Let your mind wander; imagine
yourself on a magic carpet skirting
the water close enough to let
your fingertips touch a tepid sea.

You are an albatross spreading
wide wings to circle the ocean, seeing
an endless horizon of possibilities.
Drop judgments and anger into the sea.

Breathe in hope, peace and serenity.
You feel energized, content and
ready for a safe landing on a
newfound shore of the mind.


© by Norma Wightman.
Used with the authorís permission.
†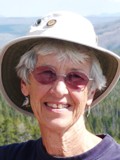 Norma Wightman lives in Morro Bay, California, where she walks the beach daily, leads nature hikes in local state parks, and enjoys yoga, kayaking, and birding around the beautiful central coast. Norma's poems†have appeared in local publications and art exhibits†and she has published chapbooks for family and friends. Her inspiration, she says, comes from†everyday items and nature.
†
†
Anastasia:
A pleasant meditation, and definitely an improvement to my Monday!
Posted 08/01/2023 12:53 AM
Wilda Morris:
Lovely!
Posted 07/07/2023 12:03 PM
Jancan:
This lovely poem made me smile, close my eyes, and say "Ahhhh"!
Posted 07/05/2023 11:10 PM
Lori Levy:
Soothing, great meditation.
Posted 07/05/2023 02:25 PM
Sharon Waller Knutson:
I love this poem and recited it as part of my morning meditation. Favorite images:"waves swishing in and out" and "You are an albatross spreading wide wings to circle the ocean."
Posted 07/05/2023 01:26 PM
cork:
How will I deal with my jiving blood?
Posted 07/05/2023 10:16 AM
Michael:
Such peace in this poem, Norma. You've not only painted a picture but created an aura that truly "suffices."
Posted 07/05/2023 09:48 AM
David:
I feel better after reading that!
Posted 07/05/2023 09:40 AM
madstitcher:
Exactly how I feel as I sit on the beach. So expressive and soothing. Lovely
Posted 07/05/2023 08:33 AM
Angela Hoffman:
Breathe in. . . !
Posted 07/05/2023 08:25 AM
Larry Schug:
This puts me in mind of a log I sat on every year for 28 years beside a mountain creek at Ghost Ranch. The water was far from tepid, but what I felt is nicely described in these words. Thanks for sending me back there.
Posted 07/05/2023 08:18 AM
peggy.turnbull:
The vivid, sensory images in yhis poem filled me with peace and calm this morning. I can't wait to explore "the newfound shore" of this day. Thank you, Norma.
Posted 07/05/2023 07:26 AM
Jonah:
excellent sentiments. i am no stranger to "Frustrating Situations" or "Irritating" people". Norma's poem is just the job!
Posted 07/05/2023 06:05 AM