Stabbing
at
a
cherry
tomato
with
a
fork

it
burst
in
my
mouth
like
a
garden

I
can
hear
it
in
my
ears
at
Cracker
Barrel.


© by Danny P. Barbare.
Used with the authorís permission.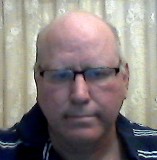 Danny P. Barbare's award-winning work has been published in numerous online and print journals. Author of four books, Danny lives with his family in Greenville, South Carolina, where he draws inspiration from the Blue Ridge mountains and from the lowlands of Charleston.



Lori Levy:
Like the image of the burst that can be heard in your ears.
Posted 07/19/2023 01:11 PM
Leslie Hodge:
Such a fun poem! Love the form.
Posted 07/19/2023 12:54 PM
carlpalmer:
Your poem would fit right in on one of their rustic displays in the dining area.
Posted 07/19/2023 12:01 PM
Anastasia:
Nothing like a fresh tomato!
Posted 07/19/2023 11:05 AM
Wilda Morris:
Cracker Barrel is a restaurant chain, Larry. An interesting poem.
Posted 07/19/2023 09:12 AM
David:
Nice poem that captures a moment wonderfully with the senses. (Cracker Barrel is a restaurant chain.)
Posted 07/19/2023 09:09 AM
Michael:
Wonderful use of typography paired with words, Danny . . . great taste once those little guys are impaled by the fork!
Posted 07/19/2023 09:07 AM
Larry Schug:
I realize I'm a dunce when it comes to brand names, but I don't understand the reference to Cracker Barre, which, I assume, is some sort of chain store company. Enlighten me,please. I like the poem's form.
Posted 07/19/2023 08:22 AM