Every surface in the house covered
          with tomatoes, a vat
of boiling water on the stove,
          drop them in and wait for
cracks in their skins. Into cold water. Out.
          Cut away the bad spots,
cut out stem end and blossom end,
          peel away the skin,
chop them up, drain them in a colander—
          save the juice to drink—
dump them into the other
          pot in which a mountain of garlic
has been simmering in olive oil:
          Brandywine, Juliet, Cosmonaut,
Rose de Berne, all go in,
          salt and pepper,
basil, thyme, oregano,
          then
let it bubble
          while you
go smell
          the house.


From Happy Life (Copper Canyon Press, 2011).
Used here with permission.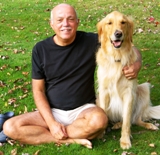 David Budbill (1940 - 2016) was born in Cleveland, Ohio to a streetcar driver and a minister's daughter. A track star in high school, he worked at a variety of jobs, with a particular interest in social justice and the great outdoors. After obtaining a bachelor's degree in philosophy and art history and a master's in divinity, David turned his focus to words. In the course of his career, he wrote eight books of poetry, seven plays, two novels, two books for children, a collection of short stories, dozens of essays, and the libretto for an opera. He also collaborated frequently with avant-garde jazz legend William Parker. A one-time commentator on National Public Radio's All Things Considered, David received numerous awards for his work, much of which was inspired by the years he spent living in rural Vermont. Learn more about him at www.davidbudbill.com.
Jancan:
Very descriptive and appealing
Posted 07/18/2023 10:27 PM
Lori Levy:
Sensually appealing.
Posted 07/18/2023 02:53 PM
David:
Entertaining and informative!
Posted 07/18/2023 12:37 PM
cork:
Oh, the spices!
Posted 07/18/2023 10:52 AM
Larry Schug:
A perfect ending to a recipe for preserving happiness.
Posted 07/18/2023 08:14 AM