Daily down the rows of head-high plants
sticky with sap and hung with browning leaves
we hunt the red globes of the Better Boys,
the Celebrities, the pendulous pouches
of Amish Paste, the red lanterns, large
and small, of Romas, hundreds of marbles
of Sweet One Hundreds, stalking the rarest
prize of all, the heavy Brandywine—lumpy  
green-shouldered, broken bounty, its heavenly
body too intense in tomato flavor to waste
on the assembly line of blanching, peeling,
saucing, freezing, drying; and so we feast
right now on each misshapen ripeness—let  
winter's store of lesser, perfect shapes  
remind us of summer's sweetest taste.


This poem first appeared in The Dalhousie Review (2013).  
Used here with permission.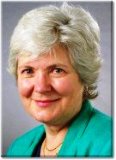 Robin Chapman is a poet, painter, and student of language in Madison, Wisconsin. An organic gardener and early morning exerciser, she is retired from teaching courses in child language development and disorders at the University of Wisconsin-Madison. Widely published in a variety of venues, Robin's tenth collection of poems, Panic Season, was published last summer, and she co-edited two poetry anthologies Learn more about her here and here.

Stephen Anderson:
I have but one word for this poem: luscious !
Posted 07/24/2023 07:09 AM
Anastasia:
One of the few things I miss about living where there's "real" summer is having tomato plants in the yard. Fortunately, the farmers' market is there for me!
Posted 07/22/2023 12:57 AM
Lori Levy:
Love the misshapen ripeness.
Posted 07/21/2023 04:03 PM
ladybug:
Susan T. Moss Such lovely and "delicious" images of tomatoes. Nicely done poem, Robin.
Posted 07/21/2023 11:57 AM
Elaine Sorrentino:
She made tomatoes as fun as they are delicious!
Posted 07/21/2023 11:07 AM
peggy.turnbull:
Now I want to grow every variety listed, especially the Brandywine and its "heavenly body."
Posted 07/21/2023 10:56 AM
Wilda Morris:
A poem as tasty as a ripe, home-grown tomato!
Posted 07/21/2023 10:36 AM
peninsulapoet:
Delicious poem.
Posted 07/21/2023 10:25 AM
cork:
We will make gazpacho soon!
Posted 07/21/2023 10:08 AM
Gilbert Allen:
I admire this poem's vivid descriptions and the subtle modulations of its pentameter lines.
Posted 07/21/2023 09:56 AM
David:
A fine poem with excellent imagery. I also enjoyed the alliteration.
Posted 07/21/2023 09:39 AM
Larry Schug:
Ahh, tomato season. I think I'll go out and say good morning to our plants! Fine poetic praise for a wondrous fruit.
Posted 07/21/2023 08:08 AM