"Why do you do it?" someone asked.
"The money doesn't pay.
The work is long, the hours hard,
How can you live this way?"

"What makes you choose the cowboy life,
A life of dust and heat,
A life of sittin' on a horse
In wind, and cold, and sleet?"

I pondered on it for a spell
Then answered that I thought
I did it cuz the things I like
Are things a cowboy's got.

I like the way new leather smells,
I like the way it feels.
I like the ringin' jingle of
The spurs behind my heels.

I'm kinda fond of wide-brimmed hats,
I like a pair of chaps.
I like to patch up worn-out gear
With saved-up leather scraps.

It's fun to throw a perfect loop,
And dally to the horn.
There's pleasure in the way I feel
When all the calves are born.

I like a brand new pair of boots.
I like old sheepskin coats.
I like the sound my horse makes
When he's munchin' on his oats.

There's not much I like better than
A silver-inlaid bit,
Or hackamores, or horse-hair ropes,
Or saddles, built to fit.

I really like fine leather gloves,
And brandin' in the spring.
I'd rather hear a bawlin' cow
Than hear a choir sing.

And, to this list, add one thing more,
It's more than like, it's love.
A horse is what a cowboy has —
A blessing from above.

What cowboys are is what I am.
It's all I care to be.
And all the things that cowboys have
Are good enough for me.


From Cowboy Poultry Gatherin' (Guy Logsdon Books, 1993).
Used here with permission.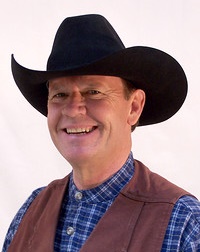 Darrell Arnold has been writing poetry for more than forty years. He was an associate editor at Western Horseman magazine for five years, then launched his own publication, Cowboy Magazine, which ran for nearly eighteen years. Poetry, primarily cowboy poetry, was an integral part of both publications. In the early '90s, Darrell started turning his poetry into songs and has now had more than 20 poems recorded by various western singers; two of them have earned song-of-the-year" awards from Western Writers of America and the Western Music Association. Darrell continues to write poetry and has extended an open invitation to cowboy singers everywhere to team up with him to make more memorable songs. For details and special pricing on his books, contact him at P. O. Box 3097, Colorado City, AZ 86021.
Wilda Morris:
Almost persuades me I shoulda been a cowboy!
Posted 07/26/2023 09:15 AM
CamilleBalla:
Ditto to Loris comments. Excellent rhythm. The poem lets us in to the heart of a cowboys life.
Posted 07/22/2023 05:42 PM
carlpalmer:
Cowboy poetry recited with a guitar around the campfire
Posted 07/22/2023 05:16 PM
Lori Levy:
Great portrayal of the cowboy's life. I think the line, "I'd rather hear a bawlin cow/ Than hear a choir sing," says it all.
Posted 07/22/2023 01:36 PM
Sharon Waller Knutson:
I love this poem and want to sing along. It has rhythm and personality and is delightful and charming. Favorite stanza: Its fun to throw a perfect loop,/ And dally to the horn./ Theres pleasure in the way I feel/ When all the calves are born.
Posted 07/22/2023 01:17 PM
DavidTookey:
Ride em' cowboy! Great poem and a joy to read. Well done Darrell.
Posted 07/22/2023 12:44 PM
cork:
Darrell, you do have the reins and your mount under control.
Posted 07/22/2023 12:00 PM
Kelly Scott:
I have that "cowgirl feeling" Here I come. What a sweet poem of cowboy passion!
Posted 07/22/2023 11:37 AM
NormaB:
Love all the details, like the way leather smellswonderful!
Posted 07/22/2023 10:09 AM
Stephen Anderson:
A delightful, joyous piece of unbridled (excuse the term!) cowboy pride, all reminiscent of my childhood fantasies of cowboy life.
Posted 07/22/2023 09:21 AM
Michael:
Little wonder that this poet's wall is decorated with awards! Based on this poem, well-deserved indeed. Scintillating poem, Darrell.
Posted 07/22/2023 09:12 AM
Larry Schug:
Good one, buddy! I think you mainly like having one breath and one heart beat follow another as long as life allows. By the way, I'm up to page 89 with a bit of an interruption due to you know what. Who knew cowboys could be so Zen!
Posted 07/22/2023 08:36 AM