I am surrounded by green.
Every day, summer
fills me with the vibrancy
of leaves on uncounted trees,
abundant grass, unknowable.

Even milkweed and weedy cousins
contribute to this monolith of color.
Summer's voice sings in unison.
Any alien from afar could see this
familiarity, so close, so encompassing,
hear the vivid chords of survival.

I am also alien – looking out
a window, walking in the yard,
in pastures, in woods –
swimming in a sea too green
to evade, too deep to fathom.

I will surface as dark falls,
night sky covering the green
panorama, obscure until morning
when the symphony will return,
the curtain will rise
and the God of all living things

will penetrate my soul,
subdue my senses, and I
will again long for grace
to fulfill all longing, that green
that covers everything.


From Come Before Winter (Turning Plow Press, 2023).
Used here with permission.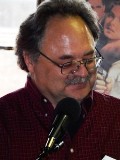 Ken Hada is a professor at East Central University in Ada, Oklahoma, and hosts a weekly podcast, "The Sunday Poems." Author of ten books, the latest being Come Before Winter, his 2021 book, Contour Feathers, received the Oklahoma book Award. Ken's work has also received awards from Western Writers of America and the National Western Heritage Museum. Raised in the rural Ozarks, he enjoys hiking, flyfishing, and kayaking. Learn more about Ken at www.kenhada.org.
Wilda Morris:
"I am also alien." Yes!
Posted 07/26/2023 09:10 AM
Jancan:
Lovely, descriptive praise of creation and Creator
Posted 07/24/2023 09:34 PM
Carol Clearwater:
Brings to mind that wonderful line by Andrew Marvel, about a 'green thought in a green shade.' A vista of green does good things to your heart.
Posted 07/24/2023 07:43 PM
Lori Levy:
Beautiful. I love green, too.
Posted 07/24/2023 12:53 PM
Joan Luther:
Serene, I find thee, dear green
Posted 07/24/2023 10:58 AM
Glenda Beall:
Thanks to lots of rain here in the mountains of western NC, everything is very green and my deck garden is thriving. In my youth, I would be cutting grass and weeding, but now my green is in pots with the green background of thick green woods
Posted 07/24/2023 10:57 AM
cork:
Kelly green!
Posted 07/24/2023 10:13 AM
Larry Schug:
The first thing my friend, Willie, from New Mexico said to me on a summer visit to Minnesota was "It's so green here! Like the words of this poem, we do not take it for granted. After all we do have half a year that's white. But always there is blue above.
Posted 07/24/2023 08:11 AM
Darrell Arnold:
I am a man of the West. In the mountains, green is pretty common, but throughout much of the West, brown is the dominant color. When we see green we rejoice, because green means water. In in NW Arizona, we only have green after heavy rains or even snow, and those are rarities, and they don't last. I've traveled in the East, and I marvel at the green. I appreciate that Ken appreciates what he sees.
Posted 07/24/2023 08:02 AM
paula:
what a different take on summer!
Posted 07/24/2023 05:08 AM