Living in a neighborhood
groomed to the least blade of grass,
you forget about the brazen real world

—till a deer, big-boned and confused,
clip-clops through your hushed street,
searching for the tangle of the woods.

 
© by Robert K Johnson.
Used here with the author's permission.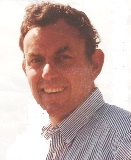 Robert K. Johnson writes poems about our everyday world, which, he says, "has always gripped me much more than science-fiction worlds."
A former English professor at Suffolk University in Boston, he was the poetry editor for Ibbetson Street magazine for several years. Robert is the author of four collections; he lives in a suburb near Boston.


Carolyn Stonewrll:
I love this complex poem for many reasons: First, the deer, whose description also hints of both doofus and divine Fool, is gloriously out of place in these Martha Stewart yards; the residents are too but are too dumb (too addicted to obsessive control down to the last groomed blade of grass--groomed a stellar word) to recognize their displacement. Blade(such a fine word) also underscores how cut off from real life we are in suburbs. Secondly, the word tangle is brilliant. Isn't the tangle of the woods the brazen real world--the non-ordered, nonconforming, big-boned (I love that adjective!), rude world of wildness and contradiction? Thirdly, in suburbs like Swellsley, the streets are always hushed--not the peaceful silence of the woods but the quiet of lives shrink-wrapped from real-world noise. The rise of inside-the-house life (demise of front-porch life) substitutes for community and nature--gateways to our real inner lives. Finally, the whole poem may hinge on the richness of the word brazen--a word I love because it's not easy to pin down (like the poem as a whole) that keeps me thinking about it. For me, brazen is not an obvious word to compare to the real-world tangle of wilderness deer comes from (that's why I like it): brazen also smacks of the smack-ridden urban ghettos of real life that are tangled in complexity. Have I got that right? There are so many ways brazen informs: isn't the deer itself brazen to step outside its chaotic, woodsy world into this over-tended garden of streets--the deer as much an outsider as any ill-mannered, inner-city wanderer?
Posted 07/29/2023 11:32 AM
Wilda Morris:
Well-expressed!
Posted 07/26/2023 09:06 AM
jamvan:
The wild so close and wonderfully described
Posted 07/26/2023 02:27 AM
Jancan:
Lovely contrast
Posted 07/25/2023 10:33 PM
Anastasia:
Concise, and makes a perfect picture.
Posted 07/25/2023 02:10 PM
Sharon Waller Knutson:
This poem was perfect. Photographic and sparse. Loved this line: till a deer, big-boned and confused, clip-clops through your hushed street, searching for the tangle of the woods.
Posted 07/25/2023 01:59 PM
cork:
I have heard the clip-clops of the deer.
Posted 07/25/2023 10:24 AM
KevinArnold:
Not an extra word. Bravo.
Posted 07/25/2023 10:18 AM
Michael:
So much said in so few words. Nicely done, Robert.
Posted 07/25/2023 08:55 AM
NormaB:
I love the word groomed to describe surburbia. Deer will do what deer do!
Posted 07/25/2023 08:32 AM
Larry Schug:
We, too are nature,like everything else. If we forget the "brazen world" we forget about ourselves, I think.
Posted 07/25/2023 08:26 AM
David:
Its the kind of reminder we all need occasionally! Loved the imagery of big boned and clip-clops. Very nice.
Posted 07/25/2023 07:25 AM