Driving home we see a deer strayed up
from the park.

Slender, shimmering in our headlights,
he stands watch on the street,
antlers tilted.

At dusk, our two worlds coincide
as though a wormhole opens
to another realm,

as though the deer exists for this
moment only,

as though his universe dissolves
when the sun comes up.

My road, he seems to say, but you
can be here,

and then he turns and leaps back
to the trees.

We drive on, somehow comforted
by this brief convergence
of two worlds.


© by Sally Zakariya.
Used here with the authorís permission.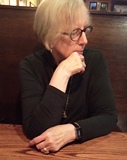 †
Sally Zakariya is a freelance writer and editor in Arlington, Virginia. Her poetry and articles have appeared in more than a hundred 100 publications and she is the author of seven books, including a poetry anthology about food, Joys of the Table. Sally blogs at www.butdoesitrhyme.com.
Wilda Morris:
Lovely moment well-described.
Posted 08/03/2023 09:26 AM
Jancan:
A lovely description of the majestic connection of those "two worlds"
Posted 08/02/2023 08:53 PM
Sharon Waller Knutson:
Love this descriptive delightful poem as much as I love deer. I can relate since we live in a wildlife habitat. My favorite line is: Slender, shimmering in our headlights, he stands watch on the street, antlers tilted.
Posted 08/02/2023 02:05 PM
Anastasia:
A magical moment, well captured! Thank you, Sally!
Posted 08/02/2023 01:43 PM
Lori Levy:
I can picture this scene. Beautifully portrayed.
Posted 08/02/2023 01:23 PM
Gilbert Allen:
A vivid poem that reminds me of Robert Frost's "Two Look at Two"
Posted 08/02/2023 08:37 AM