The face of it
strong as light,
open and jeweled,
innocent as bare earth,
full moon in a pinafore.
This childís toy
on a stick,
whirls inside,
gray leaves
soft as afterthoughts,
little catsí ears
pricked out
for the sound
of sun.


© by Ruth Moose.
Used here with the authorís permission.
†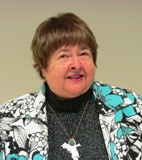 Ruth Moose was on the Creative Writing faculty at the University of North Carolina-Chapel Hill for 15 years. Author of novels, short story collections, and poetry collections, her work has appeared in publications all over the world. Ruth, who lives in Albemarle, North Carolina, was awarded a MacDowell Fellowship and, in 2009, received the prestigious Chapman Fellowship for Teaching. Her debut novel, Doing it at the Dixie Dew, was awarded a $10,000 Malice Domestic Prize. Ruth's most recent novel is The Goings on at Glen Arbor (St. Andrews University Press). Read a wonderful interview with her here.

jamvan:
stunningly simple and eloquent
Posted 08/08/2023 04:02 AM
Anastasia:
Wonderful images! Thank you, Ruth!
Posted 08/06/2023 01:21 AM
Adriana:
Totally charming. Wonderful metaphors and similes: "soft as afterthoughts" "little cats' ears" "full moon in a pinafore". Haven't heard the word pinafore since I wore them in the forties! Have never liked sunflowers; will look at them differently now.
Posted 08/05/2023 04:31 PM
Lori Levy:
Unique and beautiful.
Posted 08/05/2023 01:20 PM
paradea:
Wonderful interview with Ruth from the link that is posted!! She is a very interesting writer!!!
Posted 08/05/2023 11:49 AM
NormaB:
Soft as afterthoughts. Such original and beautiful images. Thank you!
Posted 08/05/2023 11:42 AM
paradea:
Beautiful!!!
Posted 08/05/2023 11:36 AM
Jancan:
The vivid figures of speech made me smile.
Posted 08/05/2023 09:40 AM
Sharon Waller Knutson:
Ruth Moose is a legend in poetry. She's eighty-five and been writing since she was three. Only Ruth would describe a sunflower as: "innocent as bare earth, full moon in a pinafore."
Posted 08/05/2023 09:31 AM
David:
No better way to say it than with imagery. Very nice.
Posted 08/05/2023 09:19 AM
Wilda Morris:
Delightful images!
Posted 08/05/2023 08:38 AM
liz dolan:
Love those images.
Posted 08/05/2023 07:58 AM
Larry Schug:
Very unique description of a wonderful flower.
Posted 08/05/2023 07:51 AM
paula:
Nicely said!
Posted 08/05/2023 07:01 AM