(My cell phone rings.)
†
Hi, Mom, itís me.
†
(Of course, itís you.
Youíre my only child.)
†
Are you baking cookies?
†
(No verbal reply. Rolling eyes
make no noise.)
†
I can smell them from up here.
Iíll be down there in a minute.
Bye!
†
Itís a long hike down
from his room upstairs
just to ask a silly question.

†
© by Carroll S. Taylor.
Used here with the authorís permission.
†
†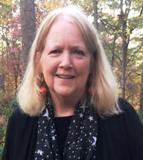 Carroll S. Taylor and her husband live in Hiawassee, Georgia. A retired educator, she is the author of two young adult novels, Chinaberry Summer and Chinaberry Summer: On the Other Side. She is also the author of a children's book, Feannag the Crow, and another one forthcoming, Ella's Quilt. In 2022, Carroll co-wrote a play, Beneath the Sky and Waters, an overview of Clay County, North Carolina's history and its connection to the Cherokee heritage of the area. The play was performed onstage at the Peacock Performing Arts Center in Hayesville, NC. Carroll's novels emphasize generational storytelling, and she loves writing about reptiles, amphibians, spiders, and other critters. Learn more about her at chinaberrysummer.com.
Anastasia:
What a fun poem! Thank you, Carroll!
Posted 08/06/2023 01:20 AM
Wilda Morris:
Fun
Posted 08/05/2023 08:40 AM
Lori Levy:
Were a cookie-loving family too!
Posted 08/04/2023 03:47 PM
Sharon Waller Knutson:
Adorable. Loved it from the title to the last line. Laughed out loud. So authentic and relatable. Shows that small words make the loudest impact.
Posted 08/04/2023 02:04 PM
pwax:
Love it!
Posted 08/04/2023 12:41 PM
David:
Clever, fun and, as Michael says, rings true!
Posted 08/04/2023 10:13 AM
Michael:
Delightful! So true to life in these times. Nicely done, Carroll.
Posted 08/04/2023 09:05 AM