Built from brick, from stucco, from logs
planed smooth or not. We fashion it from stone,
from blocks of ice, animal skins. From bamboo or sod,
from the bark of elm trees. It is high above the city.
It is nestled among trees. Dug into red hills.

Home is the skin we grew into and out of. A babyís cry,
a manís rattling snore. Itís arguments and fevers,
rituals and ribbons. A song that Mother sang
late at night. Home is a tattered box, red
and heart-shaped, one that remembers a dozen sweets.

Photographs of ancestors, the bent pages of books,
milk stains. Window glass streaked with rain.
Some nights dreams wander around home like ghosts
picking up grapefruits, squeezing them a little, putting them down.
And if you have left, Come home, say the ghosts, come home.


This poem first appeared in Blue Heron Review.
Used here with permission.
†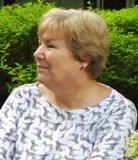 Ginny Lowe Connors is a retired English teacher and the author of four full-length poetry collections and a chapbook, Under the Porch, which won the Sunken Garden Poetry Prize. She runs a small poetry press, Grayson Books, and is co-editor of Connecticut River Review. Ginny has also edited a number of poetry anthologies, including Forgotten Women: A Tribute in Poetry. Learn more about her at www.ginnyloweconnors.com.
†
†
†
†
†
†
Denise:
I so loved and enjoyed your poem Ginny. It was home described in all of its lines of love and reality wonderfully mixed. It makes me miss home as the truth unfolds so beautifully.
Posted 08/09/2023 01:06 PM
Fuscotf:
Excellent Poem. Nice tone and images.
Posted 08/09/2023 11:58 AM
Carol Clearwater:
Love the second verse. And the last line of the poem. I live in a different country from where I was born and grew up, and the last line, come home, say the ghosts, come home..... is intensely powerful to me.
Posted 08/08/2023 06:50 AM
jamvan:
wonderfully condensed imagery - spans time so deftly
Posted 08/08/2023 04:01 AM
Larry Schug:
Though I love the entire poem, I think the second stanza sticks out for me.
Posted 08/07/2023 08:07 PM
CamilleBalla:
Particularly like this description of home: Home is the skin we grew into and out of. A babys cry, a mans rattling snore. Its arguments and fevers, rituals and ribbons. Thank you.
Posted 08/07/2023 03:34 PM
Anastasia:
Wonderful details and images. Thank you, Ginny!
Posted 08/07/2023 01:13 PM
Lori Levy:
Great images and details of what "home" is.
Posted 08/07/2023 12:26 PM
Michael:
Like the way Ginny makes good use of detail in this poem. Surely, such details constitute the essence of home. Well done, Ginny.
Posted 08/07/2023 12:08 PM
NormaB:
This poem touched my heart! Cant do better than that!
Posted 08/07/2023 10:23 AM
Sharon Waller Knutson:
I love this wise visual poem. These lines say it all: "Home is the skin we grew into and out of. A babys cry, a mans rattling snore. Its arguments and fevers, rituals and ribbons."
Posted 08/07/2023 10:21 AM
paradea:
I like this poem!!
Posted 08/07/2023 09:55 AM
Joan Luther:
Lovely. This went from house to home.
Posted 08/07/2023 09:04 AM
David:
A wonderful poem. Love the ending.
Posted 08/07/2023 08:25 AM
Wilda Morris:
An excellent list poem. A good list of house construction types leading to the more personal things that make a house a home.
Posted 08/07/2023 07:43 AM