That was my father's yield one summer
from just three carefully tended plants.
Waste not, want not.
 
So we ate zucchini provencale,
(my mother fond of French fancification),
zucchini bread (of course), zucchini cake,
 
spaghetti with zucchini sauce,  
scrambled eggs with zucchini,  
zucchini pancakes, zucchini pickles.
 
Dressed in identical rompers
sewn by my mother,
my sister and I were sent forth
 
with baskets of zucchini,
charged with ringing neighbors' bells
to offer a zucchini gift.
 
Tense with zucchini dread,
once we fled before the door could open,
leaving the zucchini behind on the porch,
 
and never told our zucchini guilt.  


© by Claudia Mills.
Used with the author's permission.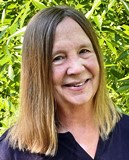 Photo credit: Laura Roettiger
Claudia Mills is the author of more than sixty books for young readers, most recently The Lost Language, a verse novel for middle-grade readers which was named a Notable Verse Novel of the Year by the National Council of Teachers of English. Claudia taught philosophy for many years at the University of Colorado and loves to think deep, poetic, and amusing thoughts while walking in the mountains near her home in Boulder, Colorado. Learn more about her at www.claudiamillsauthor.com.


Wilda Morris:
A fun poem! You can leave some zucchini om my porch any time! Before the squash beetle found my garden, I used to grow my own, and especially liked stuffing it in various ways and baking it (when the weather wasn't too hot).
Posted 08/09/2023 08:47 AM
jamvan:
haha - that zucchini guilt (I think I have it too)
Posted 08/09/2023 01:30 AM
Jancan:
This one made me smile--a light delight to read.
Posted 08/08/2023 11:24 PM
mail@schoolbusmart.com:
very cute. Randy Mazi
Posted 08/08/2023 07:23 PM
jennath:
such a joy to read!
Posted 08/08/2023 03:09 PM
Anastasia:
What a fun poem! Thank you, Claudia!
Posted 08/08/2023 02:13 PM
CamilleBalla:
Clever and original. It gets me in the mood to mix zucchini bread but dreading to use the oven. Will look up zucchini provencale for another day and will file it next to my Zuke Soup recipe. Fun! Thanks.
Posted 08/08/2023 01:25 PM
cork:
I have heard that in SLC at church services, cars are carefully locked to prevent zucchini invasions.
Posted 08/08/2023 10:00 AM
Sharon Waller Knutson:
I love this delightful charming poem because it shows from the title and the repetition of the world zucchini how zucchini multiply and take over the garden. This line shows how desperate a family is to get rid of the plant that has become a problem: "Dressed in identical rompers sewn by my mother, my sister and I were sent forth with baskets of zucchini..."
Posted 08/08/2023 09:17 AM
Pat Brisson:
I love the image of you and your sister in identical rompers tense with zucchini dread. This was a fun one, Claudia!
Posted 08/08/2023 09:15 AM
David:
Clever and original with an expected and tasty ending!
Posted 08/08/2023 08:44 AM