This man was reading in his room...
††††††††††††††††††††††††††††††††††††† ~ William Wordsworth
†
My last hour each day
as I hit the hay
is unwinding time
relaxing as Iím
feeding my obsession.††††††††††† †
†
Not just wanting, but needing
to turn pages, reading
this chapter and next
taking in text
until me or my book is done.
†
No way can I measure
my nocturnal pleasure
of lying in bed
with a book to be read,
new adventures to devour.
†
I can go any place
while staying home safe
with no social distance
or mask for existence
in my nightly ivory tower.


© by Carl Palmer.
Used here with the authorís permission.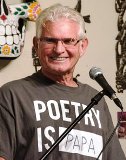 Carl "Papa" Palmer lives in University Place, Washington now, but grew up on Old Mill Road (the name of his latest book) in Ridgeway, Virginia. Retired from the military and the Federal Aviation Administration (FAA), he enjoys being a Franciscan Hospice volunteer and being "Papa" to his grand descendants. Carl is the author of nine chapbooks and his work has been published in more than 200 journals around the world. His motto is "Long Weekends Forever!"
Anastasia:
Oh, yes! The best way to wind up the day, "in my nightly ivory tower"!
Posted 08/17/2023 12:23 PM
Lori Levy:
This speaks to me, too!
Posted 08/09/2023 07:16 PM
NormaB:
Sounds like, from the comments, that many of us are read-before-sleep obsessed and I am no exception. Its such a pleasure to choose from the stack by my bed: poetry, memoir or fiction!
Posted 08/09/2023 03:27 PM
Joan Luther:
Wonderful!
Posted 08/09/2023 01:54 PM
CamilleBalla:
Oh, always a book no matter how tired; even if just as a reminder that theres more.. Well said in rhyme.
Posted 08/09/2023 11:33 AM
paradea:
Love this poem!!
Posted 08/09/2023 10:17 AM
Tom Sharpe:
A fun poem. I read a lot, my wife is obsessed. She only sleeps after reading. And a real book, no screen books, only bound pages.
Posted 08/09/2023 09:27 AM
Bishop1956:
Great poem, Carl. I can relate. I always bring my Kindle to bed with me. When my eyes start to glaze over and the Kindle falls from my hands and narrowly misses my head, I know its time to hit the hay.😊
Posted 08/09/2023 09:18 AM
Wilda Morris:
Ah, yes! Good use of irregular rhyme.
Posted 08/09/2023 08:45 AM
Darrell Arnold:
Fast, fun, short, and cleverly rhymed. Excellent.
Posted 08/09/2023 08:14 AM
Larry Schug:
I always enter sleep with a book in hand. Well said, Carl.
Posted 08/09/2023 08:01 AM
mail@schoolbusmart.com:
wow. great poem, great form, and great fun. Randy Mazie
Posted 08/09/2023 07:55 AM