Just as mid-August is throwing hints
that summer is waning
with day-by-day earlier sunsets,
mornings that are beginning to cool,
stores displaying supplies for 'back to school',

those big happy faces pop out—
today, five of them as large as saucers—
three raspberry red; two white
etched in deep pink, bopping
in a welcoming breeze, beckoning me
to sip my tea in the garden,
have breakfast with hibiscus.


© by Camille A. Balla.
Used with the author's permission.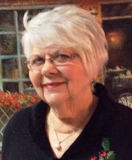 Camille A. Balla lives in suburban Chicago. The author of Simple Awakenings, a chapbook that spans the seasons of the year, her poetry has appeared in local and national publications as well as on the Internet and in greeting cards and gift items. Camille is a life-long learner whose interest in spirituality and personal growth inspires her poetry. Other interests include digital photography, creating greeting cards for family and friends, trying out new recipes, collecting inspirational and motivational quotes, and sharing her poems at 'open mics'.
Anastasia:
Breakfast with hibiscus sounds like a lovely start to the day!
Posted 08/14/2023 04:52 PM
Lori Levy:
Beautiful--having "breakfast with hibiscus."
Posted 08/11/2023 02:27 PM
paradea:
Good one!!
Posted 08/11/2023 01:55 PM
cork:
I would love to be "bopping in a breeze."
Posted 08/11/2023 10:35 AM
Wilda Morris:
Lovely!
Posted 08/11/2023 08:48 AM
liz dolan:
big happy faces- love it.
Posted 08/11/2023 06:57 AM
JanetRuth:
I LOVE this! I am peeking at the buds of my own hibiscus daily, waiting for the unfolding of those 'big, happy faces' in Ont. Canada!
Posted 08/11/2023 06:44 AM