Hours and hours of taffy pulled and stretched
to the furthest reaches of neighborhood lawns,  universe
of grasses cool and tickling, cushions
for our bodies somersaulting and cartwheeling, tagging
You're It, while somewhere above us


the dimmer switch of Heaven would be turning
down to lavender rose and deeper rose, and then
the voices of the mothers streaming in
through the darkening air
to come home, come home


From Her Joy Becomes (Fernwood Press, 2022).
Used here with permission.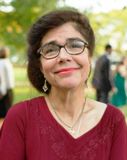 Andrea Potos, who writes in longhand, is a longtime independent bookseller and the author of numerous books; her latest is Her Joy Becomes, from Fernwood Press. Andrea loves reading, travel, cafes, and walking beside lakes and on green trails—"of which there are many," she says, in Madison, Wisconsin, where she lives. Andrea's Greek grandparents and their spirit have been an abiding presence and inspiration throughout her life and poetry.
v
Anastasia:
That sounds like a perfect summer day!
Posted 08/14/2023 05:31 PM
Wilda Morris:
Well-said! Too many children now stay indoors on their electronic devises. Much is lost!
Posted 08/13/2023 09:23 AM
Jancan:
Those were the days! Expressive figures of speech
Posted 08/13/2023 08:50 AM
Lori Levy:
Beautiful!
Posted 08/12/2023 07:33 PM
Adriana:
Not that I ever experienced the subject, but the second verse actually affects me physically, pulling me in like a magnet I can't let go of, the words so lovely...especially the repetition of "come home, come home."
Posted 08/12/2023 06:39 PM
paradea:
Tom, also no!!!
Posted 08/12/2023 01:09 PM
joecot:
Brought me home. Thanks.
Posted 08/12/2023 11:46 AM
peninsulapoet:
Always a pleasure to read Andrea's poems.
Posted 08/12/2023 10:54 AM
peggy.turnbull:
Oh yes, this was my childhood summer too. What beauty in these lines!
Posted 08/12/2023 10:01 AM
Tom Sharpe:
Larry, no
Posted 08/12/2023 08:57 AM
Larry Schug:
I wonder, do our mothers ever stop calling?
Posted 08/12/2023 08:41 AM