The red east glows, the dewy cheek of Day
Has not yet met the sun's o'erpowering smile;
The dew-drops in their beauty still are gay,
Save those the shepherd's early steps defile.
Pleas'd will I linger o'er the scene awhile;
The black clouds melt away, the larks awaken--
Sing, rising bird, and I will join with thee:
With day-break's beauties I have much been taken,
As thy first anthem breath'd its melody.
I've stood and paus'd the varied cloud to see,
And warm'd in ecstacy, and look'd and warm'd,
When day's first rays, the far hill top adorning,
Fring'd the blue clouds with gold: O doubly charm'd
I hung in raptures then on early Morning.


This poem is in the public domain.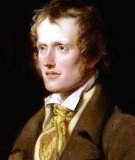 John Clare (1793 - 1864) was born to a poor, working class family in England. His life as an uneducated peasant farmer was one of constant struggle and hardships, yet his poetry is wonderfully inspiring. John was a "poetic environmentalist," in awe of the natural world, and nature is the theme of much of his work. His poetic talent earned him access to Londonís literary circles, though his inferior social standing kept him from ever truly joining its ranks. Tragically, John spent the last twenty years of his life in a mental asylum, though he continued to write and produce poetry that some critics laud as some of the 19th centuryís best work. Learn more about John Clare†here.
†
†
Clifford:
RHYMING SCHEME IMPECCABLE A SIMPLE OFTEN OVERWORKED THEME BUT VERY WELL CRAFTED
Posted 08/15/2023 08:16 PM
Anastasia:
I love to watch the sunrise, then go to bed! Daytime is much too bright; I am very much a night person.
Posted 08/14/2023 04:50 PM
Darrell Arnold:
Hey KZman: Get some cows or sheep or goats to take care of, or maybe a burro. I guarantee you, you'll be gotten up early to feed them.
Posted 08/13/2023 01:03 PM
KZman:
Oh to be a morning person. Perhaps if I read this lovely poem each and every day it will somehow inspire me to find the morning sunrises again. Such a peaceful time of day!
Posted 08/13/2023 11:18 AM
David:
Beautiful poem with a wonderful opening line. Thanks for sharing this with us.
Posted 08/13/2023 10:46 AM
Wilda Morris:
Lovely!
Posted 08/13/2023 09:20 AM
Larry Schug:
I agree with Clare and Darrell. Id I should stay in bed until 6 a.m.,well, the day feels shot. As the days grow shorter, I find I like rising in the dark and watching daylight slowly develop. I think the shepherd is the star of this poem.
Posted 08/13/2023 09:15 AM
Darrell Arnold:
Ol' Johnny and I have the love of sunrise in common. Being a morning person (read someone who has always taken care of livestock), I have to say the dawn of day, shortly before sunrise, is often the most pleasant part of every day. Roosters and coyotes announce that sunshine is coming, and the beauty of the light, and the quiet calmness of the world engulf one in pleasant feelings.
Posted 08/13/2023 08:18 AM