You can tell a lot about people by the caps they
wear, claims Glenn Harshaw as he steers his
dust-powdered Dodge truck past grapevines and
concrete standpipes, then across the railroad
tracks that divide Porterville like an international
border, toward Farmers Tractor and Equipment.
He asks me to translate a message written on a
poster pasted to a steel-plate enclosure around an
electric water pump. I tell him what it means in
English, and he makes a deep throated rumble
like the one he makes when his wife tries to talk
to him. You donít want to talk Massey Ferguson
to some guy wearing a† John Deere cap, he says,
or pesticides to some fool wearing one that says,
Organic.† Bareheaded, I feel anonymous. The GI
Bill paid for Glennís college education in the
Ď50s. The yellow emblem on his cap blares USC
and glitters in the San Joaquin Valley summer
sun. An air-conditioned farm-implement
showroom feels good. Welcome back, says a
logo-shirted salesman named ďChuy,Ē as he eyes
Glennís cap. How about you get that mower you
want, cheap, and I get your Rose Bowl tickets?
My son is at Arizona State.


© by Ronald Lauderbach.
Used with the authorís permission.
†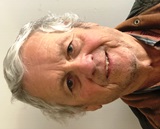 Ronald Lauderbach says he writes poetry to celebrate life and because he likes to play with language. A retired high school English and journalism teacher (he also coached Pony League, for 12- and 13-year-olds), he tries to follow the advice he gave his students: "If you write poetry that moves you, it will move others." Reviews say his new collection, Snapshots, does just that. Ron lives in San Diego, California.
Lori Levy:
Like the humor and insights.
Posted 08/19/2023 07:19 PM
mark zimmermann:
Thanks for a timely reflection on the signals/suggestions conveyed by caps and, by extension, things like t-shirts, bumper stickers etc. Really like the way you put across the details of your encounter. Way to go!
Posted 08/19/2023 06:13 PM
Anastasia:
Fun and also true!
Posted 08/19/2023 05:58 PM
Sharon Waller Knutson:
This poem is so delightful and charming because of the conversational style. i loved how Ron developed his character and what his witty wise character has to say.You dont want to talk Massey Ferguson to some guy wearing a John Deere cap, he says, or pesticides to some fool wearing one that says, Organic. Bareheaded, I feel anonymous.
Posted 08/19/2023 10:13 AM
Leslie Hodge:
Wonderful "Ron Lauderbach poem"! So much warmth and humor. Now I'll have to look for a cap to wear today.
Posted 08/19/2023 09:47 AM
cork:
One of my many caps says SPAM.
Posted 08/19/2023 09:38 AM
Tom Sharpe:
Mine says River Riders 4-H Club. I am proud of that small group. Mostly I wear a hat.
Posted 08/19/2023 09:34 AM
Darrell Arnold:
It's what people want you to know about them. That is what is on the cap. I proudly wear a cap that says " Air Force Veteran." I can always count on a fellow serviceman saying, "I was Navy (or Marines, or Army, or Coast Guard) When did you serve and where?" We are a brotherhood of patriots, and we like to find each other.
Posted 08/19/2023 08:20 AM
NormaB:
Oh, my, I live in a town where every man wears a cap. Id better pay closer attention!
Posted 08/19/2023 07:51 AM