O perfect day!
O glorious day!
O day that dawns so fair!
O blessed day at end of which
One can let down one's hair!

O, Friday, you are fabulous!
Dear Friday, you're my favorite.
The day that leads from work to play--
No wonder that we savor it!


From She of the Rib: Women Unwrapped (2006).
Used here with permission.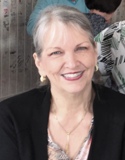 Jayne Jaudon Ferrer is the author of five books of poetry, a nonfiction book about games, and a novel, Hayley and the Hot Flashes. Jayne created www.YourDailyPoem.com in 2009 to share the pleasure and diversity of poetry. A former copywriter, magazine editor, newspaper columnist, and freelance journalist, her work has appeared in hundreds of publications. When not writing or reading, Jayne enjoys music, old movies, gardening, hiking, and good conversation. A native Floridian, she has lived in Greenville, South Carolina, for almost 30 years. Learn more about her at www.jaynejaudonferrer.com.
Joan Luther:
Loving the best day of the week! Wonderful poem!
Posted 08/18/2023 03:29 PM
carlpalmer:
Can't help but smile each time I read it. I'll savor it as a favorite, as probably everyone I forwarded it to this fabulous Friday morning.
Posted 08/18/2023 01:58 PM
paradea:
Love it!! It's a good one to memorize and recite, unexpectedly, for someone!!!
Posted 08/18/2023 01:12 PM
CamilleBalla:
A happy rhythmic praise poem. The rhyming works so well that I can almost see you holding up a glass toasting the day! Cheers!
Posted 08/18/2023 01:11 PM
Darrell Arnold:
This all reminds me of what the great cowboy poet Baxter Black once wrote. "Every day is Saturday to a dog."
Posted 08/18/2023 11:32 AM
Jane H Fitzgerald:
We all feel that way about Fridays! 👏😊
Posted 08/18/2023 10:58 AM
Janice Galt:
So good and true, be someone working or retired!
Posted 08/18/2023 10:11 AM
David:
Fun! A good thing (among many) about being retired is that every day is as good a day as Friday and Saturday and Sunday.
Posted 08/18/2023 09:25 AM
Wilda Morris:
LOL!
Posted 08/18/2023 08:59 AM
MLove:
This is my favorite kind of poetry - short sweet funny! Love it!
Posted 08/18/2023 08:51 AM
peggy.turnbull:
From work to play that is exactly what Friday means to me!
Posted 08/18/2023 07:04 AM
Jonah:
Love it! Friday has always been the best!
Posted 08/18/2023 06:57 AM