Serendipitous: Looking for something, finding something else, realizing
what you found is more suited than what you thought you were looking for.

We raised roses
relished by us
and by the loads of lovely ladybugs,
tended thyme
trimmed by us
and by our overabundance of bunnies,
weaved wisteria for us
and for the haven of one hundred bird nests.  

We transplanted tulips
treasured by us
and by the Washington black tail deer,
dug in dahlias
delighted by us
and by our foraging backyard mason bees,
propagated periwinkle for us
and for the hovel of two hundred rabbit families.

We latticed lilacs
lavished by us
and by the reappearing Monarch butterflies,
laid in lavender
loved by us
and by our resurrected vigilant bumble bees,
hung honeysuckle for us
and for the homecoming of three hundred hummingbirds.


© by Carl Palmer.
Used here with the author's permission.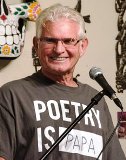 Carl "Papa" Palmer lives in University Place, Washington now, but grew up on Old Mill Road (the name of his latest book) in Ridgeway, Virginia. Retired from the military and the Federal Aviation Administration (FAA), he enjoys being a Franciscan Hospice volunteer and being "Papa" to his grand descendants. Carl is the author of nine chapbooks and his work has been published in more than 200 journals around the world. His motto is "Long Weekends Forever!"
Lori Levy:
Sounds like a beautiful garden for you and all kinds of creatures.
Posted 08/21/2023 04:25 PM
liz dolan:
All of this and a hospice tender, too. Liz
Posted 08/21/2023 03:17 PM
Anastasia:
What a lovely garden! It's amazing how many beings can benefit from a single act.
Posted 08/21/2023 01:12 PM
carlpalmer:
and Thank Yous to you all for taking part of your morning to thank me.
Posted 08/21/2023 01:09 PM
paradea:
Good one!!
Posted 08/21/2023 12:06 PM
Denise:
It was wonderful and fun I agree to read all of the caregiving descriptions you are joyfully managing for all the life that surrounds you and the beauty and fulfillment that you find so rewarding in doing so. Tending to all creatures great and small was a rewarding very enjoyable read. Thank you Carl.
Posted 08/21/2023 11:30 AM
Joan Luther:
Love this! The words danced me through the poem.
Posted 08/21/2023 10:37 AM
RonPoems:
I enjoy the alliteration and music here. Thanks
Posted 08/21/2023 10:19 AM
KevinArnold:
Fun.
Posted 08/21/2023 10:01 AM
David:
A garden of surprises. Very nice.
Posted 08/21/2023 09:17 AM
Darrell Arnold:
I love what is in the poem. Our garden, too, becomes a draw and a haven for bees, hummingbirds, finches, doves (and hawks that prey on them), sparrows, kingbirds, mantises, chickadees and toads. Of course, there are sometime unwelcome visitors, like squash bugs, hordes of mice, and tomato worms. Did you know that tomato worms glow bright green under a black light and thus provide entertaining late evening hunting? Rewards for the chickens.
Posted 08/21/2023 08:37 AM
Larry Schug:
Good work in the garden, good work on the page. Thanks from all the animals, especially those that read aloud. Thanks from me.
Posted 08/21/2023 08:06 AM