There was a pond in my young years,
a place of reeds
reflected trees
and silky brown water
spilling over a weed-bearded dam,
a place where we swam from early spring
and skated in the early darkness of winter evenings,
a place of mysterious depths
where creatures vanished
into a green void
while tadpoles and minnows
swarmed on its verges
like exclamation points.

There I saw mallards, come down softly,
cruise, smoothly as pedal boats,
their broad feet massaging the water
until, sighting edibles,
they flipped forward,
to my delight,
as if on hinges.

There sometimes I surprised a frog,
hypnotized by my nearness,
stared into its knobby eyes
and saw its throat throb nervously.

There turtles sunned themselves
still as stones
while I waited, equally unmoving,
determined not to be the first to stir.

It was a small pond
but a world in my eyes.


© by Richard Greene.
Used with the author's permission.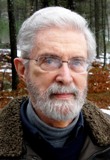 Richard Greene began writing poetry in the 8th grade, inspired by the opening lines of Longfellow's "Evangeline"—"This is the forest primeval. The murmuring pines and the hemlocks / Bearded in moss and in garments green, indistinct in the twilight"—which he was required to read in class. In college, after a classmate deemed Richard's rhyming poem "trite," he stopped writing until, a couple of years later, a class with Henry Rago, subsequently editor of Poetry magazine, inspired him to resume his efforts. But poetry fell by the wayside for almost forty years as a busy career in international development consumed his life. As retirement approached, however, Richard's dedication to poetry returned; he has since published three chapbooks: The Broken Guitar: Poems of War; Becoming Old: Poems of Aging; Painting with Words: Landscapes in Verse; and one full -length collection, To Talk of Many Things: Selected Poems. Richard, who lives in Nyack, New York, shares a "poem of the week" with anyone interested; get on his mailing list by requesting it at greeneplace@gmail.com.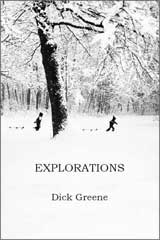 jamvan:
Wonderful! Capturing movement so lyrically. Thankyou
Posted 08/23/2023 12:34 AM
Anastasia:
What a lovely place! Thank you for taking us there, Richard! This phrase is especially wonderful: "a weed-bearded dam"
Posted 08/22/2023 02:51 PM
Don:
I remember this tranquil place. This pond was "a world in my eyes", too.
Posted 08/22/2023 02:31 PM
Lori Levy:
Great images, beautiful depiction of this pond from your younger years.
Posted 08/22/2023 02:28 PM
Stephen Anderson:
This well-written poem reminds me so much of some of my childhood recollections, Richard.
Posted 08/22/2023 12:49 PM
KZman:
The imagesperfect all the way through! Love spilling over a weed-bearded dam as well as the other lines mentioned. The whole poem culminating to those last few lines of a great outdoor childhood. Yes, nostalgic and brings me back to the woods we romped in growing up and the pond across the street. So many fond memories of the childhood home. Thanks!
Posted 08/22/2023 12:30 PM
Adriana:
I too will save this poem, beautiful in every way: images, lines, especially the first one, subject, the visceral pull of nostalgia, the small pond as childhood world...
Posted 08/22/2023 11:46 AM
Tracers645:
This will be one I read over and over.
Posted 08/22/2023 10:25 AM
KevinArnold:
A world in my eyes, yes.
Posted 08/22/2023 10:06 AM
David:
Full of excellent images and lines. .. tadpoles and minnows like exclamation points is wonderfully imaginative!
Posted 08/22/2023 09:54 AM
Judy:
Beautiful, Richard! Fun to watch those mallards with you!
Posted 08/22/2023 09:36 AM
Jancan:
Nostalgia at its best! Excellent, descriptive similes
Posted 08/22/2023 09:29 AM
Shoshauna Shy:
I like "swarmed on its verges like exclamation points"!
Posted 08/22/2023 09:16 AM
cork:
I think that all of us have had our ponds. Mine was BAB, and sand pit in Ford's woods in Michigan.
Posted 08/22/2023 08:57 AM
Angela Hoffman:
Always love Richard's poems!
Posted 08/22/2023 08:19 AM