Iím going to miss him more than I thought.
†
One doesnít always realize how deeply
our daughters and sons grow into us
††††††††††† as they grow away from us,
their presence becoming such a natural part
††††††††††† of our domestic landscape, here and abroad,
that their absence becomes an empty space,
††††††††††† suspended in the air beside us,
into which our imaginations pour any number
††††††††††† of fears and hopes, apprehensions and love.
†
Our instinct, of course, is to protect them,
to dip them like Achilles into some magic fire,
††††††††††† or coat them like Teflon
guarding against all forms of harm
††††††††††† known and (especially) unknown.
Then, because we have read that old Greek fable
††††††††††† and are all the smarter for it,
we will spray their heel with the handy aerosol version
††††††††††† in order to sleep easily every night....
†
Oh, dear. Instead, we have to rely on advice
older than Achilles, advice we canít help but heed,
††††††††††† advice that is our instinct as well:
Step asideótrust that
††††††††††† they will find their way through
mistakes, bruises, disappointments, failures and all;
††††††††††† advice which weóbut of course!ócan heed,
yet which will also jostle our souls
††††††††††† in ways we could never have ever imagined.


© by Daniel Budd.
Used here with the authorís permission.
†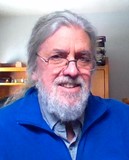 †
Daniel Budd†is a retired Unitarian minister in Cleveland Heights, Ohio. He†has been reading and writing poetry since finding W.H. Auden's "Like Love" torn out of a paperback and lying on the floor of his high school cafeteria. Daniel is very appreciative of the time he has now to read and write more.
†
Jancan:
Such a descriptive, deeply moving, and realistic piece
Posted 08/29/2023 09:32 PM
Lori Levy:
Very true.
Posted 08/29/2023 07:25 PM
MLove:
Beautiful poem and so true. If you need a laugh to help you through, watch Season 5, Episode 1 of "The Middle" (TV Show) - The Dropoff (Axel Goes to College). It is hilarious and closely mirrored my experience dropping off my son. (Originally aired 9/25/2013)
Posted 08/29/2023 03:10 PM
Anastasia:
My parents pretended to be filled with glee at having the house to themselves when I went off to college. They weren't particularly convincing, but it kept things becoming too much to deal with at the dinner table because we could make jokes about it ("now, don't throw wild parties while I'm gone", "remember to clean the house", all the things parents say to their kids), and gave all of us time to adjust.
Posted 08/29/2023 02:32 PM
Shoshauna Shy:
I like the word "Saudade," Portuguese for the presence of absence. It was so hard, after my firstborn moved out at 18, to pull shut the curtain and lock the back door at 10 PM knowing he wasn't coming home for the night.
Posted 08/29/2023 11:11 AM
Wilda Morris:
So true! I've been reading THE GRIEVING BRAIN - which explains some of the neuroscience behind the difficulty of letting go - and the truth of their absence as "an empty space / suspended in the air beside us." And have experienced that, too.
Posted 08/29/2023 10:51 AM
liz dolan:
How true, Daniel. I used to attend evening Mass after work on Fordham's beautiful BX campus.
Posted 08/29/2023 09:41 AM
David:
There are beautiful and insightful lines here, our daughters and sons grow into us / as they grow away from us among them. Very nice.
Posted 08/29/2023 08:14 AM
Larry Schug:
Yes, all lives must follow their own paths. We can offer a gentle nudge, perhaps,a word here and there. Very thought provoking poem.
Posted 08/29/2023 08:09 AM
Darrell Arnold:
Let them go, but be there for them. My folks did that for me. I didn't need them a lot after I went off to college and my own life, but knowing I had loving and supportive parents in that home anchor, was an enormous psychological support throughout my life, and I did, on occasion, take advantage of "Achilles" "aerosol." Thanks, Daniel, for the reminder.
Posted 08/29/2023 08:05 AM