are two words as soothing as "summer
vacation" and "cinnamon swirl" because
there was red brick Dewey School,
the lacy elms that graced it,
the purple rug I brought from home,
my little raft for naptime.
Fat Crayolas, Elmer's glue that dried
on palms for peeling; Mrs. Schumach's
piano, Steven Kaylick's cowboy boots.
Was he my boyfriend, my first crush?
Before I knew what that was, I felt
a sense of kinship with his gap-toothed  
grin, his cowlick, his cherry-red suspenders.
Even his name was fun to say
and I sang it walking home
from that magical realm of my afternoons
called Half-Day Kindergarten.
We all were such tender budlets
enthralled with everything.


© by Shoshauna Shy.
Used with the author's permission.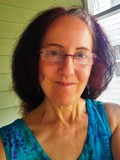 Shoshauna Shy began writing at the age of eight on a manual Olivetti. She spends her days doing copy editing for other authors, writing poetry and flash fiction, and has a cat care service. Shoshauna is the author of six books and the founder of Poetry Jumps Off the Shelf and the Woodrow Hall Top Shelf Awards.
Shoshauna Shy:
Anastasia, you were a saucy one! I love how many of us equate Elmer's glue with those days, peeling it off our palms. I'll have to work that into a new poem.
Posted 08/31/2023 02:19 PM
Anastasia:
What fun! I couldn't decide on just one boythere were three boys in my kindergarten class who were smart and funny and charmingso they were all my boyfriends, all at the same time!
Posted 08/29/2023 02:40 PM
Wilda Morris:
A wonderful list poem! And great details.
Posted 08/29/2023 10:53 AM
Shoshauna Shy:
Thank you to everyone who read this poem and shared your thoughts with all of us. I loved reading what you had to say, and hearing a bit of what this brought up for you. Childhood is such a short phase in our lives.
Posted 08/28/2023 07:33 PM
peggy.turnbull:
The details here evoke my half-day kindergarten too--things I had forgotten, like peeling Elmer's Glue off my hand. Enthralled by everything, the world full of fascination--how lovely to return to it through this poem. Thank you, Shoshauna!
Posted 08/28/2023 05:50 PM
Denise:
Absolutely a fun trip back in time recalling and remembering those fun and sweet days with you!
Posted 08/28/2023 03:22 PM
BAMars:
I can still feel that dried glue on my palms, and remember Harold, my first crush. I thought he was beautiful. I just love this poem.
Posted 08/28/2023 01:33 PM
Lori Levy:
Love the details and the feelings this poem provokes.
Posted 08/28/2023 01:31 PM
carlpalmer:
Favorite line: such tender budlets enthralled with everything. Yes, we were.
Posted 08/28/2023 01:05 PM
jentsch:
Love this trip back in time with all the details. Kindergarten was certainly memorable!
Posted 08/28/2023 11:01 AM
David:
Well done! It brings back memories that are different in detail but so similar in the emotions they rejuvenate.
Posted 08/28/2023 09:05 AM
Angela Hoffman:
Such delight and innocence.
Posted 08/28/2023 08:57 AM
Gilbert Allen:
Vivid and delightful. Well done!
Posted 08/28/2023 08:50 AM
Sharon Waller Knutson:
I love this charming adorable poem. It shows the innocence of a five-year-old being in awe of and in love with everything: fat crayolas, the teacher's piano, a boy's cowboy boots and cowlick. This poem made me want to sing and dance.
Posted 08/28/2023 08:07 AM
Darrell Arnold:
We didn't have kindergarten back when I was that young, so I don't have those memories, but the mention of Shoshauna's manual Olivetti sure brought a flood of them. My Olivetti was my best writing friend in my early years of writing. I acquired one when I went off to college, and it was near and dear to me for those four years, until I ran out of money. I sold my Olivetti and my precious Ithaca 12-guage shotgun to have enough money to survive on during that last, final senior-year quarter. No student loans necessary.
Posted 08/28/2023 07:46 AM
liz dolan:
Great details.
Posted 08/28/2023 06:53 AM