Their summer red coats
sprinkled with white spots
glisten in morning sun.

On nimble legs, tiny, taut
bodies with oversized ears,
tremble through their world –
precious and innocent –
between the pasture and the oaks,
filtered like falling snow.

Their mother is teaching them:
teaching them trails
to take for survival,
where to find food
beneath pecan trees,
lying still in tall grass
when danger approaches –
teaching them when to go
to water, when to shelter

teaching them to respond
to her snorts, teaching them
to obey instinct,
teaching them not to trust.

Each day, they run a little
farther, a little faster –
white spots fading
into green – dark, forever.


From Come Before Winter (Turning Plow Press, 2023).
Used here with permission.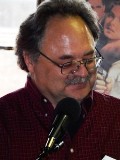 Ken Hada is a professor at East Central University in Ada, Oklahoma, and hosts a weekly podcast, "The Sunday Poems." Author of ten books, the latest being Come Before Winter, his 2021 book, Contour Feathers, received the Oklahoma book Award. Ken's work has also received awards from Western Writers of America and the National Western Heritage Museum. Raised in the rural Ozarks, he enjoys hiking, flyfishing, and kayaking. Learn more about Ken at www.kenhada.org.
jamvan:
How beautifully the poem captures the elusive and tentative nature of the deer and the mother's stewardship. Excellent!
Posted 09/03/2023 01:36 AM
Jancan:
Vividly detailed piece on a mother's loving, guiding care for her young
Posted 09/02/2023 08:43 PM
Lori Levy:
Beautiful!
Posted 09/02/2023 12:47 PM
Adriana:
I love every charming line, difficult to single out favorites, maybe the falling snow image and the suddenly dark last line...
Posted 09/02/2023 12:21 PM
MLove:
Great poem! For the first time this year we left our large lawn as a "Piedmont Prairie" with tall grass (and way less mowing!). We were rewarded with watching a doe and her twin fawns hide and play in the grass one lovely June day. They have since moved on and I do wonder where...
Posted 09/02/2023 11:27 AM
Michael:
This could have been written about human Mothers, Ken. (With appropriate modifications, of course!) Nicely done.
Posted 09/02/2023 10:50 AM
KevinArnold:
Yes, great care with so few words. Fun.
Posted 09/02/2023 09:56 AM
Larry Schug:
One of "our" does with her fawn comes way too close when I bring out the seeds for the bird feeders, yet I haven't the heart to chase them away. Shame on me. This poem shows the constant teaching moments. I like that. Really, very good work, Ken.
Posted 09/02/2023 08:46 AM
David:
Nice imagery throughout. Teaching them not to trust might be the most important lesson of all.
Posted 09/02/2023 08:29 AM
Wilda Morris:
Lovely.
Posted 09/02/2023 08:26 AM
vortex:
This is a beautiful poem. Right now we are enjoying daily visits from a mother deer and her two fawns. It fits perfectly into the day! Thanks
Posted 09/02/2023 08:16 AM
liz dolan:
Love this poem, Ken and I especially like the repetition of teaching.
Posted 09/02/2023 07:17 AM