I opened a book and in I strode
Now nobody can find me.
Iíve left my chair, my house, my road,
My town and my world behind me.

Iím wearing the cloak, Iíve slipped on the ring,
Iíve swallowed the magic potion.
Iíve fought with a dragon, dined with a king
And dived in a bottomless ocean.

I opened a book and made some friends.
I shared their tears and laughter
And followed their road with its bumps and bends
To the happily ever after.

I finished my book and out I came.
The cloak can no longer hide me.
My chair and my house are just the same,
But I have a book inside me.


From Crazy Mayonnaisy Mum, first published 2004 by Macmillan Childrenís Books,
an imprint of† Pan Macmillan. Reproduced by permission of Macmillan Publishers
International Limited. Text copyright © Julia Donaldson 2004, illustrations by Nick
Sharratt. This edition published in 2015.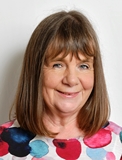 Photo credit: Steve Ullathorne
Julia Donaldson has written some of the world's best-loved children's books of the last 30 years, including modern classics The Gruffalo and The Gruffalo's Child, which together have sold over 25 million copies worldwide and have been translated into over 100 languages. Her other books include A Squash and A Squeeze, Room on the Broom and Zog, illustrated by Axel Scheffler, The Hospital Dog, illustrated by Sara Ogilvie and the hugely successful What the Ladybird Heard adventures, illustrated by Lydia Monks. Julia also writes fiction, including the Princess Mirror-Belle series, illustrated by Lydia Monks, as well as poems, plays and songs – and her brilliant live shows are always in demand. She was the UK Children's Laureate 2011-13 and has been honored with a CBE for Services to Literature. Julia and her husband divide their time between West Sussex and Edinburgh.
jamvan:
totally charming
Posted 09/11/2023 01:33 AM
Anastasia:
A wonderful, delightful poemthis is exactly what reading a book is like! Thank you for persisting to get the rights to share it here, Jayne!
Posted 09/08/2023 08:55 PM
Lori Levy:
Captures what it's like to be totally absorbed in a book.
Posted 09/06/2023 03:12 PM
Jancan:
Absolutely delightful~~in addition to being skillfully composed
Posted 09/06/2023 01:39 PM
Ron Stewart:
Thank you Julia, what a wonderful entertaining poem. You've given me new energy to the children's book I have on my back burner.
Posted 09/06/2023 11:48 AM
mail@schoolbusmart.com:
Wonderful poem. Thanks for sharing it. Randy Mazie
Posted 09/06/2023 11:10 AM
Judy:
Her love for books/stories surely comes out in such a delightful way!
Posted 09/06/2023 10:36 AM
Tom Sharpe:
Good find Darrell.
Posted 09/06/2023 10:22 AM
Darrell Arnold:
Brilliant and profound. Awesome. As a poet, I am humbled. As a reader, I'm a hundred percent in this woman's camp.
Posted 09/06/2023 08:25 AM
Larry Schug:
Ah, the perfect poem by Julia Donaldson, for my morning after reading a short essay called "The greatest Nature Essay Ever" by Brian Doyle, another piece called "Nostalgia" by Abigail Thomas and a funny, but right on poem by Nicole Borg called "Ode to the Leaf Blower" Thanks, Julia; you've capped my morning. Now I've got to start writing.
Posted 09/06/2023 07:48 AM
bobbi43sml@aol.com:
Love the imagery and the rhythm - it just swings and sings! Needs to be on every library wall!!
Posted 09/06/2023 06:58 AM
Joan Luther:
The best escape! Wonderful poem!
Posted 09/06/2023 06:15 AM
Jonah:
Excellent! Words paint a picture, and Julia is an artist!
Posted 09/06/2023 05:32 AM