Here's to pajama days,
And the people who celebrate them.
Here's to comfort over style,
Uncombed hair and faces without makeup.
Hats off to reading all day
Or binge watching the latest Netflix series.
Kudos to cold pizza for breakfast,
Or hot buttered popcorn for dinner.
Blue ribbons for long phone conversations with friends,
And lazy couch lounging by the fire.
Gold medals for forgetting about "to do" lists,
Bathrooms that need cleaning,
Or bills that need paying.
Cheers to taking a day off every now and again
Without remorse, without guilt, without judgment.
High fives to sometimes doing whatever you want,
When you want, and
Eating whatever suits your fancy,
No matter the carb count or sugar content.
Here's to pajama days,
And a round of applause for those who know they deserve them!


© by Joanna Zarkadas
Used with the author's permission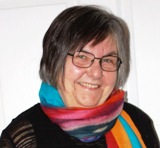 Joanna Zarkadas has been practicing "random acts of writing" since she could hold a pencil; she's spent her entire professional life encouraging middle schoolers to do the same. Joanna's work has appeared in a variety of publications and she is a regular reader at The Art of The Spoken Word, a monthly poetry venue at the library in her home town of Plymouth, Massachusetts. When she isn't writing poetry, Joanna enjoys singing with Persephone's Daughters, a women's performing group, volunteering as a bedside singer for Cranberry Hospice of Plymouth, and spending time with her children and granddaughter. 
Anastasia:
Sounds like a great day! *checks calendar to see when I can do one myself*
Posted 09/08/2023 08:53 PM
Lori Levy:
Love the way you portrayed pajama days.
Posted 09/07/2023 07:59 PM
Wilda Morris:
Fun!
Posted 09/07/2023 01:05 PM
carlpalmer:
Such a relaxing poem, joyful priorities
Posted 09/07/2023 01:02 PM
David:
A big high five 🖐️ to this poem!
Posted 09/07/2023 01:01 PM
Sharon Waller Knutson:
I love this uplifting unique poem. I am one of those pajama people and proud of it. I'm guilty of binge watching Netflix, Prime or Hulu movies while eating popcorn in my pajamas. No cold pizza for breakfast though.
Posted 09/07/2023 11:37 AM
Tom Sharpe:
Spaghetti, pizza, lasagna all better the second day. Lived on that stuff in college and beyond til it got out in front of me. Now just on occasion. I love hard work and days spent tailboning.
Posted 09/07/2023 09:45 AM
Shoshauna Shy:
Leftover lasagna at breakfast tastes better than fresh from the oven at night. Love your poem!
Posted 09/07/2023 09:34 AM
cork:
I often have buttered popcorn in the afternoons. I add salt and parmesan.
Posted 09/07/2023 09:29 AM
Joan Luther:
Cheers to pj day!
Posted 09/07/2023 09:17 AM
Larry Schug:
Not me, but I know people who would feel guilty and "behind" for a week if they ever did this. Hmmm.
Posted 09/07/2023 08:05 AM
NormaB:
Such a fun read! Who doesnt love a day or two doing exactly what you describe so poetically!
Posted 09/07/2023 07:34 AM
KinVT:
Gave me a chuckle to find out that Im not the only one who occasionally eats popcorn for dinner :) Fun poem. Hooray indeed!
Posted 09/07/2023 07:22 AM