Beautiful is the coordinated chaos of starlings in flight.
Beautiful is sunset on ruffled clouds.

Beautiful is a cherub face in hair ribbons
and frilly Easter dress.

Beautiful is that second kiss,
knowing for sure it is desired.

Beautiful is the female form, from the Venus
of Willendorf to the Venus De Milo,
the frozen motion ballet movement
of the football player in midair.

Beautiful is the violin crying, the "Sleeping Beauty Waltz,"
the "Artist's Life," the tenor aria, the soprano high C,
"Songs My Mother Taught Me."
Beautiful is the taste of spring on the air,
chocolate on strawberries and in the mixing bowl,
blueberries in milk.

Beautiful is Monet's Water Lily Pond,
La Pietà, the Girl with A Pearl Earring.

Beautiful is the fragrance of roses and tomatoes,
Mom's pocketbook, of fresh baked bread,
the watching the rising of a midsummer moon.

Beautiful is the Grand Canyon, wherever you look.

Beautiful is feeling the warmth
of another's body touching yours.

Beautiful is that surprise sight of your lover
waiting on the train platform, excited to see you.           
Beautiful is your first time,
and then every time,
you look at the stars.


© by Tony Fusco.
Used with the author's permission.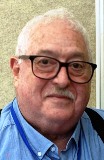 Tony Fusco is past president of the Connecticut Poetry Society and has a Masters Degree in Creative Writing from Southern Connecticut State University. Retired from Yale Medical Group, he is the author of seven books, and three chapbooks of poetry. Tony was also the editor of Caduceus, anthology of the Yale Medical Group Art Place which he also created and published, and past editor of The Connecticut River Review and Long River Run, journals of the Connecticut Poetry Society. He produced West Shore Poets, a television poetry series at CTV. Tony lives in West Haven with his wife, Patti; he has two adult children and four grandsons. Learn more about him here.

Ron Stewart:
Thank you Tony for reminding us of the beauty around us and in us every day
Posted 09/10/2023 09:13 AM
Anastasia:
So much beauty in each day!
Posted 09/10/2023 12:23 AM
Jancan:
Lovely, uplifting, vividly descriptive piece
Posted 09/09/2023 10:52 PM
Lori Levy:
Love this list poem of what is beautiful.
Posted 09/09/2023 12:53 PM
David:
Great list. We need to appreciate these beauties and many more!
Posted 09/09/2023 11:35 AM
Arlene Gay Levine:
Beautiful is the soul of the man who notices all of this...adored the last three lines.
Posted 09/09/2023 11:19 AM
KevinArnold:
Beautiful is that second kiss, knowing for sure it is desired.
Posted 09/09/2023 11:01 AM
Judy:
So true--every word!
Posted 09/09/2023 09:53 AM
HazelGrammie:
Love!
Posted 09/09/2023 09:09 AM
KinVT:
Gosh, that made me want to cry. THAT poem is BEAUTIFUL! Thank you. I am now ready to launch into my day!
Posted 09/09/2023 08:40 AM
NormaB:
That beautiful last stanza thank you, Tony!
Posted 09/09/2023 08:38 AM
bobbi43sml@aol.com:
And for me, all of the below but for some reason " fragrance ..of Mom's pocketbook" I cannot tell you the amazing images that brought to me,,,,,, thank you thank you Tony Bobbi Martino
Posted 09/09/2023 08:31 AM
Larry Schug:
What can I say--beautiful. "that second kiss, knowing it is desired"
Posted 09/09/2023 08:13 AM
Joan Luther:
What a beautiful way to start the day! Thank you for sharing the beautiful imagery here.
Posted 09/09/2023 06:11 AM
Ceri Iddyn Nhw:
"the frozen motion ballet movement" This line is rhythmic perfection and I just want to say thank you.
Posted 09/09/2023 02:05 AM