At her little stove
in the kitchen corner,
Granny turns the handle
of the eggbeater
as fast as she can
in a double boiler
she has concocted
from one saucepan inside
a larger saucepan.
Her cheeks grow rosy
as scant air reaches her
from the box fan on the floor
or through the back screen door
on this windless summer day.

Granny is making
my favorite frosting.
I try to hurry the process.
When will it be done, Granny?
Why do you use two pans?
Why is it taking so long?
Can I help ice the cake?
Granny is patient,
answers all my questions,
never says hush now,
run along,
She beats it for seven
long, long minutes
into snow white peaks,
hands me the beater to lick.


© by Melanie Harless.
Used with the authorís permission.
†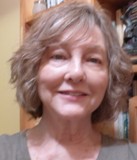 Melanie Harless lives in Oak Ridge, TN. She is a retired school librarian who enjoys reading, writing, photography, and spending time with her grandchildren. She wrote a monthly travel column for a regional magazine for a few years, and her creative nonfiction, poetry, and photography have been published in anthologies and print and online journals. Melanie is on the board of the Tennessee Mountain Writers and is a volunteer trip coordinator for the Oak Ridge Institute for Continued Learning, where she enjoys taking classes of all kinds.
†
†
Denise:
You brought me back in time with you Melanie as I too stood witness to my own grandmother's delightful cake making. Thank you!
Posted 09/12/2023 11:04 AM
Melanie :
Thank,everyone for the kind comments. I'm glad you enjoyed my poem and that it brought back your own sweet memories of grandmothers.
Posted 09/11/2023 05:01 PM
Aloupe:
I can actually feel the heat and hear the fan in that kitchen ! Sweet poem, Melanie Harless.
Posted 09/11/2023 04:56 PM
Lori Levy:
Captures the memory beautifully.
Posted 09/11/2023 01:25 PM
Anastasia:
What a fun and sweet poem! Neither of my grandmothers could do much in the kitchen, so we had frosting from a jar. Not quite the same, but it served the purpose well enough!
Posted 09/11/2023 12:52 PM
Wilda Morris:
I remember 7-minute frosting! Licking the beater (I had to take turns with my sister), and my grandmother's patience. Thanks for sharing this.
Posted 09/11/2023 11:21 AM
Judy:
Yes, Jane, Melanie writes for all of us in this sweet poem/memory!
Posted 09/11/2023 09:54 AM
Michael:
I'll be right over!
Posted 09/11/2023 09:50 AM
cork:
Can I lick the bowl?
Posted 09/11/2023 09:42 AM
David:
A well-captured memory. Yes, seven minutes can be a long time when youre waiting for frosting!
Posted 09/11/2023 08:57 AM
Jane H Fitzgerald:
The anticipation is building. Havent we all as children waited to lick the batter?
Posted 09/11/2023 05:15 AM