A swan sits serenely in the water,
long, thin neck in an S-shaped curve.
†
Such a peaceful, stately pose.
†
In my youth, I longed to be
a swan, to always appear unruffled,
as if I was gliding to applause.
†
Now, later in life, I must admit
Iím more like the geese, waddling
along the bank, pecking grass.
†
It no longer feels necessary
to be elegant, not when Iím so grateful
my back stopped aching long enough
to plod along the sidewalk in my sneakers
and praise the sun sparkling in the water,
two hours before the sun sets for the night.


© by Jacqueline Jules.
Used here with the authorís permission.
†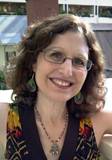 Jacqueline Jules is a former librarian who found herself intrigued by almost every book she put on the shelf.† As a reader and as a writer, she doesnít restrict herself to one genre. She is the author of 50 books for young readers on a wide variety of topics, including two poetry books for young readers, Tag Your Dreams: Poems of Play and Persistence (Albert Whitman, 2020), and Smoke at the Pentagon: Poems to Remember (Bushel & Peck, 2023). Jacqueline is also the author of four poetry books for adults, including a collection of biblically inspired poems, Manna in the Morning (Kelsay Books, 2021). After 26 years in Virginia, she moved to Long Island to be closer to her grandchildren. Learn more about her at www.jacquelinejules.com.
†


CamilleBalla:
Then and now. Seeing the ordinary with new eyes and lifted with wings of gratitude. From the land of the geese. 😊
Posted 09/17/2023 03:18 PM
Lori Levy:
Great metaphors!
Posted 09/17/2023 02:05 PM
Sharon Waller Knutson:
Love the wit and wisdom in the poem. I relate completely. I was a swan tallest in my class at twelve and now I am a duck with my grandchildren towering over me in photos and taking my arm as I waddle like a duck.
Posted 09/17/2023 01:22 PM
peggy.turnbull:
Youth and age, illusion and acceptance, gentle humor and everyday aweI feel a little wiser after reading this poem.
Posted 09/17/2023 08:53 AM
Larry Schug:
A painting of words! Magnificent throughout. It touches my heart.
Posted 09/17/2023 08:15 AM
Wilda Morris:
A good poem of contrasts~
Posted 09/17/2023 07:38 AM