When he holds your hand
and you know that he's the one,
and finally waltzing after being
a high school wallflower.
Happiness is when your boyfriend,
whom you just broke off with,
pulls up in his Pontiac and says,
 "Hey, do you need a ride?"
Happiness is having
a financial crisis
and you both shrug it off
because you have each other.
Happiness is receiving a card
from your school buddy
and she still writes,
Best friends forever!
Happiness is when you arrive
at the after-school program
to pick up the kids
and your grandson shouts out,
There's my Grandma!


© by Barbara Eknoian.
Used with the author's permission.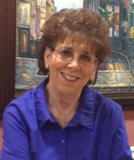 Barbara Eknoian is a poet, novelist, and veteran member of Donna Hilbert's poetry workshops. Barbara lives with her extended family in La Mirada, California. Her latest novel is Romance is Not Too Far From Here. 
MLove:
Love these great examples. Happiness is so much in the little things, isn't it?
Posted 09/18/2023 04:08 PM
CamilleBalla:
These pure joys are indeed happiness spanned over the years. I love the examples especially the first and the last!
Posted 09/16/2023 09:27 PM
BAMars:
Such pure examples of the simple joys. Thank you for helping me keep things in perspective, Barbara!
Posted 09/16/2023 08:10 PM
Wilda Morris:
Good list! I like that none of the items were celebrating something bad happening to someone else. And, as a grandmother, I love the ending.
Posted 09/16/2023 01:25 PM
Lori Levy:
Great details and great ending.
Posted 09/16/2023 12:10 PM
paradea:
All of this...and more. Love it!!
Posted 09/16/2023 12:08 PM
peninsulapoet:
I love Barara's poems. Her voice is truly her own and she speaks from the heart!
Posted 09/16/2023 11:33 AM
Jancan:
These wonderful definitions of "happiness" are much more pleasing and descriptive than those in dictionaries!
Posted 09/16/2023 10:06 AM
Sharon Waller Knutson:
I loved this poem because it so musical and so wise and relatable. These lines especially spoke to me: "waltzing after being a high school wallflower," "Best friends forever!," and "Theres my Grandma!"
Posted 09/16/2023 09:31 AM
David:
Very nice observations of a few of lifes precious moments.
Posted 09/16/2023 09:17 AM