†††††††††††††††† † † † †† For Ben Maughn

No sound is quite as soothing
As the whicker of a horse,
Greeting sent out by a special friend,
Nickers from the saddle string
When feeding time draws nigh,
Making chores a pleasure to attend.

The rhythmic sound of foot falls
Marking time from here to there,
Purring of a cricket chiming in,
Bridle reins, loose and swinging,
Stirrup leathers gently speaking
Harmony to sooth the soul within.

Cooing of a Mourning Dove,
Nighttime hooting of an owl,
Meadow Larkís melodic morning tune,
Trilling voice of Sand Hill crane,
Persistent magpie ranting,
Crossing geese when calling to the moon.

Rustling of fallen leaves
When breeze sets them in motion,
Pine squirrel chatters warning with his call,
Frosty morning bugling
From a bull elk on the prowl,
Summer sounds surrendering to fall.
 
Pattering of gentle rain
Tapping rhythm on the roof,
Bringing on the greening of the grass,
Silence brought with falling snow
As winter comes a creeping
Kind of music nothing can surpass.

Hay sled runners scrunching snow,
Work team blowing as they go,
Hungry cows are calling for their meal,
Harness jangles, headed home,
Heavy hooves are plodding slow,
Hard winter work has its own appeal.

Some folks are fond of dwelling
Close to others in a town,
Sounds of urban living running rife,
But me, I find my solace
In a simple sort of way,
Savoring the country sound of life.


© by Tom Sharpe.
Used with the authorís permission.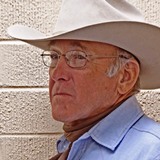 Tom Sharpe was born and raised in Southern Colorado, where he started riding colts for hire at age 11. After college graduation, Tom traveled across the country working the cattle industry, from top to bottom, in 11 different states. In addition, his insatiable love of horses led him to showing Versatility Ranch Horses and working with young people in the 4-H program. Tom, who now lives in Loma, Colorado, has performed in cowboy poetry gatherings across the western United States and, in 2020, Arizona Cowboy Connection published his book, Hoof Tracks.
Anastasia:
My idea of the perfect country song!
Posted 09/20/2023 12:43 AM
Lori Levy:
Love this country music.
Posted 09/19/2023 12:55 PM
David:
Sound imagery is sometimes overlooked, at least by me. This poem is musical. So nice.
Posted 09/19/2023 11:16 AM
Michael:
Cadence is something like riding on a horse! Well done, Tom.
Posted 09/19/2023 10:02 AM
bruceniedt:
I must admit to taking a dim view of "cowboy poetry," but this one poem could change my mind. It's beautiful, full of sensory imagery, a good formal rhyme scheme, and lyrical language. Well-done.
Posted 09/19/2023 09:53 AM
Judy:
Absolutely lovely!
Posted 09/19/2023 09:53 AM
cork:
I could hear the birds singing.
Posted 09/19/2023 09:46 AM
NormaB:
I so appreciate this tribute to rural life! And I really enjoyed the rhyme pattern.
Posted 09/19/2023 09:05 AM
Darrell Arnold:
Ol' pard Tom, in his "sharply" crafted poem, speaks to the heart of all of us who have been blessed with multitudinous joys of having been born to, and having spent a lifetime living, a rural life. I feel sad for those have never, and will never, know what it is like "savoring the country sound of life.
Posted 09/19/2023 08:38 AM
Larry Schug:
A wonderful poem, so full of sound and image, so full of life but even more touching is it's richness of texture. It takes a person's entire body and soul to hold this poem. Winter is on it's way and this poem welcomes it as it should be welcomed.
Posted 09/19/2023 08:25 AM