Streaks of rose-colored
clouds
rising above the
small hill

greet
Solo and the Fawn.

I see them as I
walk into the
glassed enclosed kitchen porch,
enviously wanting
to be on the hill
with them

as the crows
bark
and the squirrels
chatter.

Both deer
greet me as I
take my seat.

Ears perk up
while they munch
on the corn
poured out the
evening prior.

I greet them
by name.

They seem to smile
instead of running away

As we start
our day
together.  


© by Dan Batson.
Used with the author's permission.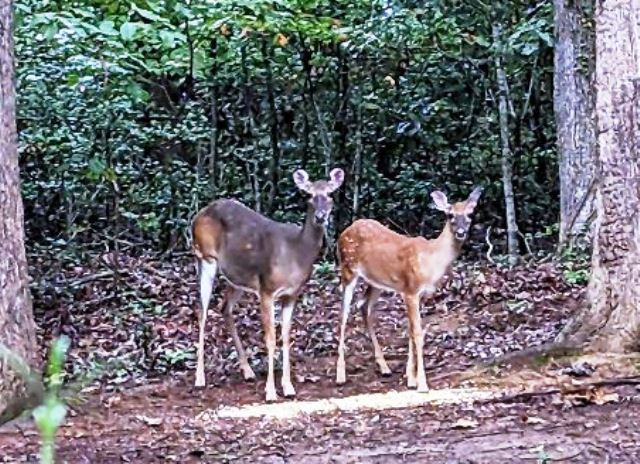 Photo credit: Dan Batson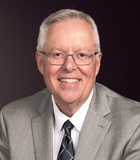 Dan Batson is a retired United Methodist pastor who lives in Marietta, South Carolina with his wife, Rene', and their cat, Ansie Gray. Author of a memoir, Morning, he is currently working on a collection of true stories he has used in sermons for the past 30+years. Dan enjoys spending time with his grandchildren and family. He has recently rediscovered his love of gardening and enjoys taking long walks in the mountains near his home.
jamvan:
how lovely!
Posted 09/22/2023 01:14 AM
Lori Levy:
Like how you and the deer start the day together.
Posted 09/20/2023 05:21 PM
Darrell Arnold:
Larry makes a good point. In La Veta, CO, where I used to live, we have a resident population of about 75 mule deer that have taken up residence in the city. They are a joy to see, it is terrific to see the fawns every late spring, and it puts us in in close contact with nature. Now, some people, like my wife, do not like them because they enjoy dining in gardens and flower beds. Further, they appear to be inbred, and are not as healthy as the wild deer in the nearby countryside and mountains. They are a mixed blessing, for sure.
Posted 09/20/2023 11:23 AM
KevinArnold:
Warm and fun.
Posted 09/20/2023 11:06 AM
Michael:
Great shot, Dan, as well as a vividly, insightful poem.
Posted 09/20/2023 10:03 AM
cork:
We are always amazed when the deer come to visit us.
Posted 09/20/2023 09:34 AM
Wilda Morris:
A tender poem!
Posted 09/20/2023 09:11 AM
NormaB:
Perfect way to start my day and yours!
Posted 09/20/2023 08:41 AM
Larry Schug:
We have a few of these relatively deer that come to our feeders, too. I love seeing them and even, talking to them but I often wonder if it would be better to chase them away so they would not habituate being around humans. Nice poem and photo, though.
Posted 09/20/2023 08:23 AM
Joan Luther:
Nature provides amazing views. Thank you for sharing this.
Posted 09/20/2023 06:40 AM