Those people hanging on every word, their eyes communicating alarm.
Those looking up at the ceiling, following the creatures as they move to and fro.
Those fighting to stay awake, a losing battle.
Those who, anticipating a fire or invasion, are looking for the doors.
Those holding up their watches, puzzled: has time come to a standstill?
Those smiling and grinning, now in the 'world' of ear pods.
Those looking down at their phones, menu page, green beans or macaroni?
Those with question marks on their faces: did I just say something wrong?
Those working on a plan on how to tell me, again, that the sermon was great but, this time, with sincerity.
Those, who love me, and will never tell me, how bad the sermon really was.
Finally know this: 5 minutes before you knew it was a bad sermon, I already did!
And how do you fix that?
Either you close the Bible, give them that serious 'look', and say, "and that is the mystery of the Bible!"
Or, you try to fix the sermon on the run, resulting, always,
in a looooong, bad sermon!


© by Cy Rogers.
Used here with the author's permission.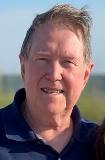 Cy Rogers was born and lived the first part of his life in south Brazil.There, as a son of missionaries, he learned that people, regardless of color or age or religion, are not all that different. Returning to the U.S., he completed degrees at the Citadel (Languages), Erskine Seminary (Theology), and Clemson University (Civil Engineering). Given the choice of building people or skyscrapers, Cy opted for ministry and has spent the past 35 years serving various churches in South Carolina. Even as he continues to learn more about physics, cultural anthropology, and theology, his real passion--for people--continues to grow. Cy lives with his wife near Charlotte, North Carolina.
Wilda Morris:
I like a minister who is not full of himself! I have done enough preaching myself to recognize some of those people in the pew, and, of course, I'm one of them - not always in the same category.
Posted 10/11/2023 09:01 AM
Arlene Gay Levine:
Loved the humor, wit and truth in your poem, Cy, but for me your bio said it all. The world needs more people like you!
Posted 10/09/2023 02:08 PM
liz dolan:
love the viewpoint of this poem.
Posted 10/09/2023 01:40 PM
cork:
He found me in every pew!
Posted 10/08/2023 02:27 PM
Lori Levy:
Interesting to read your perspective of what you see when you preach.
Posted 10/08/2023 02:22 PM
jamvan:
So many distractions - people find it hard to focus - and sometimes spiritual matters take a back seat. But I'm sure your homilies are wonderful. Your poetry is.
Posted 10/08/2023 09:39 AM
Cathy's Sister:
Our church once had a member who was snoring so loud it was drowning out the sermon! God bless pastors!
Posted 10/08/2023 09:28 AM
Michael:
Incomparable! I write this with a "sigh" of relief that you have covered the truth of the matter in so few lines. My pastor is a gem . . . we do our best to let him know.
Posted 10/08/2023 09:04 AM
Darrell Arnold:
For a time, in my life, I was married to the daughter of a Southern Baptist minister. He was a great man. There was no way he could, in the tiny towns he felt called to serve, earn a living for his family of seven. So he had outside jobs, including carpentry, night watchman, and locksmithing. But he loved God, and he loved life, and his terrific sense of humor not only kept him sane, but it endeared him to all who knew him. Alter call was not often successful, but his eternal optimism infected those of his ministry, and we were all enriched by having known him.
Posted 10/08/2023 08:51 AM
Joan Luther:
Its hard enough to write a poem each week, so Im guessing that writing sermons is a little more challenging. Enjoyed your words today, as anyone whos stood in front of a group professionally can relate. Tough crowd comes to mind.
Posted 10/08/2023 06:31 AM