"Yesterday when I was young, there were so many songs waiting to be sung."
                                                                       --Charles Aznavour/Hier Encore
 
Once we were toddlers
oblivious
fearless
unknowing
uncaring
if we lost our step
or lost our grip
we forged ahead
picked ourselves up
from the forgiving
and close-to-us ground
and started over
unconscious of what must have been
a glorious sense of freedom
power
adventure.
 
Watching home movies
of my toddler years,
I'm thinking I'd settle
for a little of the above,
even minus
the adorability.


© by Alessandra Foster.
Used with the author's permission.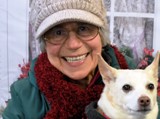 Alessandra Foster is a native New Yorker who has lived in Milwaukee, Wisconsin for the past two decades. A life-long and long-lived reader and writer of poetry, she is a fan of TCM and Hallmark movies, has been a vegan for 40+ years, and is the grateful companion to a sweet-tempered, elderly chihuahua-terrier named Diamond.
Jancan:
This sweet, nostalgic poem made me tear up--while smiling!
Posted 10/08/2023 12:25 AM
Adriana:
Thanks everyone for your kind words. My super smart and extremely generous cousin (Geoffrey in Buffalo, NY) taught himself how to put clunky forties and fifties home movies on one little DVD - a true labor of love. So I have to thank him for this poem!
Posted 10/07/2023 10:55 PM
Lori Levy:
Great, especially the ending.
Posted 10/07/2023 02:27 PM
David:
Also all [our] troubles seemed so far away. Good poem and a poignant reflection.
Posted 10/07/2023 11:02 AM
Tom Sharpe:
The strength and quick and balance left behind the want to. And left the memories of when and how I did do.
Posted 10/07/2023 09:59 AM
Wilda Morris:
Wonderful ending. And yes, sometimes I'd settle for that sense of freedom and ability to pick myself up off the floor and venture on.
Posted 10/07/2023 09:10 AM
KevinArnold:
Minus the adorability is, well, adorable.
Posted 10/07/2023 08:44 AM
Darrell Arnold:
A cute poem that causes me to laugh at myself. Falling down now is a major difficulty. Even if I don't hurt myself too badly, I still have to figure out a way to get back up. Survive all of that, and I will again be free for further adventure, except for limits caused by the lack of hand rails, and eventually a cane, and even further, a walker. Ugh!
Posted 10/07/2023 08:40 AM
Larry Schug:
The last verse makes gives this poem a new perspective. Good work.
Posted 10/07/2023 08:17 AM
Joan Luther:
What a lovely reflection
Posted 10/07/2023 06:04 AM