The oral surgeon instructs,
calm as any clock,
      You'll feel a stick.
      Then count back from ten.
I respond
      Ten   Nine   Eight
She interrupts
      Wake up. We're done.
I think
      There must be a mistake.
      I never even got to six.


© by Eric Forsbergh.
Used with the author's permission.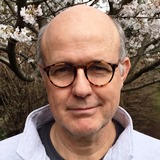 Eric Forsbergh retired from a career in dentistry in 2020, but then volunteered to be a Covid vaccinator for Loudoun County, Virginia. He has participated in dental mission trips to Guatemala and Appalachia and recently earned a Master's level certificate in Biblical Justice from the John Leland Center for Theological Study. A Vietnam veteran, Eric is the author of one book, Imagine Morning, and has published more than fifty poems in various venues. When not writing or studying, he enjoys spending time with his two energetic and highly curious grandsons at his home in Virginia.
Jancan:
Been there, done that. The clever brevity of the poem corresponds to the seeming brevity of wisdom teeth extractions!
Posted 10/11/2023 10:52 AM
Wilda Morris:
Excellent!
Posted 10/11/2023 08:54 AM
Lori Levy:
Exactly.
Posted 10/10/2023 06:39 PM
Sharon Waller Knutson:
Loved this witty and wise poem. The title tells all. The poem is a metaphor for life also.
Posted 10/10/2023 02:03 PM
carlpalmer:
I've never heard, CALM AS A CLOCK, Eric, I like.
Posted 10/10/2023 12:54 PM
liz dolan:
Been there- a real yank! than you for your contributions to our culture.
Posted 10/10/2023 09:39 AM
cork:
"She interrupts" is so powerful.
Posted 10/10/2023 09:23 AM
Larry Schug:
Modern medicine! There are a lot of things I'd rather sleep through. And yeah, nice little poem.
Posted 10/10/2023 08:43 AM
Darrell Arnold:
Ha ha! I had the same kind of countdown/wakeup experience with a colonoscopy. Maybe I should write a poem about it . . . . uh, maybe not.
Posted 10/10/2023 08:03 AM
Joan Luther:
So true! Thank you for the chuckle
Posted 10/10/2023 07:31 AM