ugly in most cases—pointy, seamed,
scarred from past encounters with contact
sports, door jams, and counters. Is
there a secret inscription, strike here,
hidden in the skin folds?

Intense electric shock courses through
one's body when that hinge is struck and
reverberates like a gong opening Valhalla
in a Wagnerian scene. A stinging paralysis
of pain follows.

But it is a valuable hinge—useful for lifting
a wine glass to eager lips, waving broadly
to a crowd, and throwing arms around a
loved one. Fortunately, your own elbow's
ugliness is almost impossible for you to see.


© by Norma Wightman.
Used with the author's permission.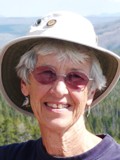 Norma Wightman lives in Morro Bay, California, where she walks the beach daily, leads nature hikes in local state parks, and enjoys yoga, kayaking, and birding around the beautiful central coast. Norma's poems have appeared in local publications and art exhibits and she has published chapbooks for family and friends. Her inspiration, she says, comes from everyday items and nature.
Jonah:
Lovely!! BTW, it's called a "Funny Bone" because the correct term is "The Humerous".
Posted 10/11/2023 05:41 PM
carlpalmer:
and table manners.....Norma, Norma, STRONG and ABLE, keep your elbows off the table. I love your wit.
Posted 10/11/2023 03:01 PM
Lori Levy:
Great. Love the humor.
Posted 10/11/2023 02:43 PM
Adriana:
I love it. The line "like a gong opening Valhalla" struck me as laugh-out-loud hilarious. A "valuable hinge" indeed - never thought of. After the previous drama, the understatement of the final line is perfect. A poem both clever and true.
Posted 10/11/2023 12:43 PM
Jancan:
I love this poem! It's skillfully composed, clever, amusing, and realistic. Why in the world do we call that a FUNNY bone?!
Posted 10/11/2023 10:40 AM
Darrell Arnold:
I'm laffin'!
Posted 10/11/2023 10:05 AM
cork:
What is a funny bone?
Posted 10/11/2023 09:24 AM
Wilda Morris:
Fun poem with a lot of truth!
Posted 10/11/2023 08:52 AM
David:
A unique perspective. Well done!
Posted 10/11/2023 08:27 AM
Joan Luther:
Valuable hinge: well said
Posted 10/11/2023 06:56 AM
Alarie Tennille:
Great descriptions, and I, too am especially grateful for the book, wine, and cat lifting my elbows do.
Posted 10/11/2023 05:53 AM