Each time I begin to write a poem,
I re-enter the deep woods
where my mother's voice guided me

while she sat beside my nighttime bed
and told me of a talking wolf,
his eyes glistening with slyness,
who waited for Little Red Riding Hood
to stroll by

            or told me of--somewhere else
in the woods--Hansel and Gretel
who were outwitted by birds
that ate the needed route of crumbs
but who, in turn. outwitted
the old witch, warts and all, just in time,

a woods too big for any map
and full--my mother assured me--
of fantastic real people and animals
and dozens of new adventures
waiting to be imagined.


This poem first appeared in Verse-Virtual (2015).
Used here with permission.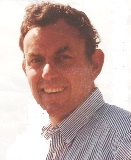 Robert K. Johnson writes poems about our everyday world, which, he says, "has always gripped me much more than science-fiction worlds."
A former English professor at Suffolk University in Boston, he was the poetry editor for Ibbetson Street magazine for several years. Robert is the author of four collections; he lives in a suburb near Boston.


Anastasia:
I always loved going to my grandmother's house, to the shelf filled with books of fairy tales! So much adventure to be found within those covers!
Posted 11/21/2023 08:43 PM
Jancan:
Expressive, vivid~~nostalgia done well
Posted 10/24/2023 09:55 PM
Lori Levy:
Love the idea of those "deep woods."
Posted 10/24/2023 02:07 PM
paradea:
Love this!! It would be a particular hell to not know how to read!!
Posted 10/24/2023 11:30 AM
Wilda Morris:
"Too big for any map" - wonderful line! And yes, these stories fed our imaginations. Thank God for a mother who read to me when I was a child, and for the joy of reading to my children, grandchildren and great-grandchildren.
Posted 10/24/2023 10:48 AM
Michael:
Insightful and wise, Robert, as to that which not only serves children well, but also, we who regard ourselves as little more than children when it comes to poetry. Well done, for sure!
Posted 10/24/2023 08:41 AM
Larry Schug:
Indeed, let's take the world's children to the woods instead of the mall. "A woods too big for any map".
Posted 10/24/2023 08:25 AM
Joan Luther:
Imagination from pages
Posted 10/24/2023 07:50 AM
David:
Very nice. The closing line is excellent
Posted 10/24/2023 07:44 AM
Judy:
This poem has the magic of those deep woods in it!
Posted 10/24/2023 07:37 AM