When I consider what may
be waiting beyond
comforts of the sun, beyond
misty shadows and dreams . . .

I wonder . . . what could be better
than this midday moment:
the lake's whispered lapping,
trees soon to be Crayola colored,

the swan's pearled feathers,
the smooth curl of her neck . . .
this picture of home and peace,
the swan alone on the shore

beneath the rainbow's cornucopian splash.
Can Heaven be far away
from beauty on display, as if
to say, There may be something more.


© by Michael Escoubas.
Used with the author's permission.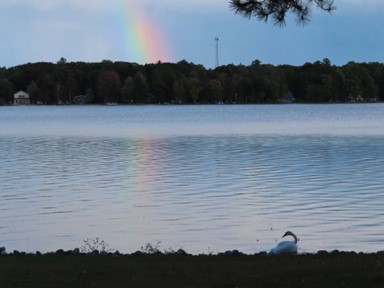 Autumn on Lake Huron - Photo by Sara Wadington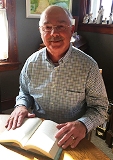 Michael Escoubas began writing poetry for publication in August of 2013, after retiring from a 48-year-career in the printing industry. He writes poetry because, early in life, his mother encouraged him. Michael also writes poetry because he believes poetry brings people together and that poets are menders of broken things. Michael is the author of six collections; his newest is Ripples Into the Light, a collection partnered with photographs by Vandana Bajikar and designed to "rest the soul and calm the spirit." Michael and photographer Sara Wadington iare colleagues at Quill and Parchment, an online poetry journal, where Michael is Senior Editor and Book Reviewer and Sara is webmistress.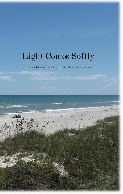 Anastasia:
"the swans pearled feathers/the smooth curl of her neck" - a lovely description of this lovely bird!
Posted 11/21/2023 08:45 PM
Denise:
The worlds heavenly features. I often think of trees and their Crayola colors. A beautifully soothing poem.
Posted 10/25/2023 11:02 AM
Joan Luther:
Rainbows emit magical delights, as do your crafted poems
Posted 10/24/2023 11:39 AM
jamvan:
The swan - so beautifully captured. Lovely meditative imagery
Posted 10/24/2023 03:02 AM
Jancan:
Descriptions paint a lovely, tranquil scene!
Posted 10/23/2023 09:17 PM
bettiebill:
Well done, bro! One of your best
Posted 10/23/2023 05:22 PM
Arlene Gay Levine:
"I wonder...what could be better than this midday moment" -- mindfulness at it's best! Thanks, Michael, for this pensive poem.
Posted 10/23/2023 03:58 PM
CamilleBalla:
the lakes whispered lapping, a poem of serenity, gratefully affirming what is: beauty on display.
Posted 10/23/2023 02:34 PM
Lori Levy:
So beautiful and comforting, especially in these terribly troubling times.
Posted 10/23/2023 02:07 PM
Wilda Morris:
"...the rainbows cornucopian splash" - a beautiful poem. Small but with several especially memorable lines. Well done, Michael!
Posted 10/23/2023 08:50 AM
Judy:
Another one of Mr. Escoubas' poems showing that, indeed, "earth's crammed with Heaven."
Posted 10/23/2023 08:37 AM
NormaB:
My favorite line: the lakes whispered lapping. A poem to savor.
Posted 10/23/2023 08:37 AM
Larry Schug:
While I find this poem to be a huge leap in conjecture. it is a beautiful, beautiful word painting of the world we occupy. The line that leaves me thinking is "I wonder...what could be better".
Posted 10/23/2023 08:06 AM