Outside,
summerís bench
abandoned

Inside,
toasty warm
on the couch

Outside,
leaves
the colour of pumpkins fly,
discarded by trees
surrendering
to unrelenting winds

Inside,
waiting for the short days
to lengthen,
to sit again
outside

in the company of trees
warmed
by a salty-perfumed breeze


© by Jana Kalina.
Used here with the authorís permission.
†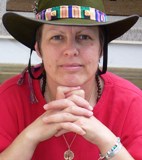 Jana Kalina lives with her husband on Vancouver Island. During her lifetime, she has lived extensively on three of the planet's seven continents and, today, her pursuits can be distilled down to three things: Buddhism, bonsai cultivation and, of course, poetry--especially haiku.
†
†
†
†
KateTompkins:
Love "leaves the colour of pumpkins." I, too, am waiting for the days to lengthen again.
Posted 10/28/2023 08:56 AM
Lori Levy:
Love the beginning. Great images.
Posted 10/27/2023 01:29 PM
carlpalmer:
Favorite line: warmed by a salty-perfumed breeze. Lovely
Posted 10/27/2023 11:46 AM
David:
The cycle of seasons nicely captured.
Posted 10/27/2023 09:12 AM
Larry Schug:
Outside in, Inside out "in the company of trees". Most definitely!
Posted 10/27/2023 08:21 AM
Wilda Morris:
Good poem of contrasts - and hope.
Posted 10/27/2023 08:15 AM
bobbi43sml@aol.com:
I speak for the LORAX!! Love every line, and every tree. This is beautiful, thank you Jana
Posted 10/27/2023 06:49 AM
Sharon Waller Knutson:
I love this unique way of showing how the weather cools off and the leaves turn and you want to be inside where it is toasty warm until it warms up and you want to be outside. Favorite line: salty perfumed breeze.
Posted 10/27/2023 06:33 AM