Come inside now.
Stand beside the warming stove.
Watch out through the windows as
a cold rain tears down
the last leaves.

The larder full of dried herbs,
hot peppers, chutneys,
jellies, jams, dill pickles,
pickled relishes,
pickled beets.

The freezer full of frozen greens—
chard and spinach, collards, kale—
green beans, basil, red sauces,
applesauce, and
smoked meats.

The woodshed dry and full of wood,
winter squashes stashed away.
Down cellar: potatoes, carrots,
crock of sauerkraut.

Come inside now.
Stand beside the warming stove.
Listen. Wait.

From Happy Life (Copper Canyon Press, 2011).
Used with permission.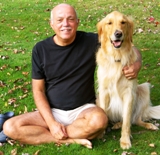 David Budbill (1940 - 2016) was born in Cleveland, Ohio to a streetcar driver and a minister's daughter. A track star in high school, he worked at a variety of jobs, with a particular interest in social justice and the great outdoors. After obtaining a bachelor's degree in philosophy and art history and a master's in divinity, David turned his focus to words. In the course of his career, he wrote eight books of poetry, seven plays, two novels, two books for children, a collection of short stories, dozens of essays, and the libretto for an opera. He also collaborated frequently with avant-garde jazz legend William Parker. A one-time commentator on National Public Radio's All Things Considered, David received numerous awards for his work, much of which was inspired by the years he spent living in rural Vermont. Learn more about him at www.davidbudbill.com.
Anastasia:
Oh, this sounds so cozy and comfortable! I'd love to stop in for a visit. I'll bring a freshly baked cake.
Posted 11/12/2023 06:26 AM
Wilda Morris:
Reminds me of the food cellar in my grandparents' home - all the canned beans and beets, etc. No freezer in those days, though!
Posted 10/28/2023 04:31 PM
CamilleBalla:
The poem shows a lot of preparation of food, satisfaction, and gratitude for all this brought forth from the earth.
Posted 10/28/2023 01:55 PM
Lori Levy:
So appealing.
Posted 10/28/2023 01:39 PM
cork:
I know the warmth of that stove.
Posted 10/28/2023 10:13 AM
Michael:
Wonderful poem that places the reader "inside" the larder . . . all those aromas . . . all but irresistible!
Posted 10/28/2023 10:00 AM
Angela Hoffman:
so comforting
Posted 10/28/2023 09:14 AM
Larry Schug:
Just the way we try to live. Winter isn't quite as ferocious when you're prepared, especially with all this good things the earth has given us.
Posted 10/28/2023 08:20 AM
Joan Luther:
Feels like a step back in time. Lovely words.
Posted 10/28/2023 07:43 AM