The sun rises splaying the sky
in layers of purple, pink and gray.

The air has a new chill; one not felt
during a warmer-than-usual October.

The atmosphere feels good on your skin,
You breathe deeply as you enjoy

the subtle seasonal change; change
you know will soon enough become

winterís deeper chill, its snowy blankets,
its icy blizzards, its commentary on death.

For now, you are content in Novemberís
compassionate hints of grace, ensconced

in soft colorations, winking through tree-tops,
as if Nature walks with you, hand-in-hand.


© by Michael Escoubas.
Used with the author's permission.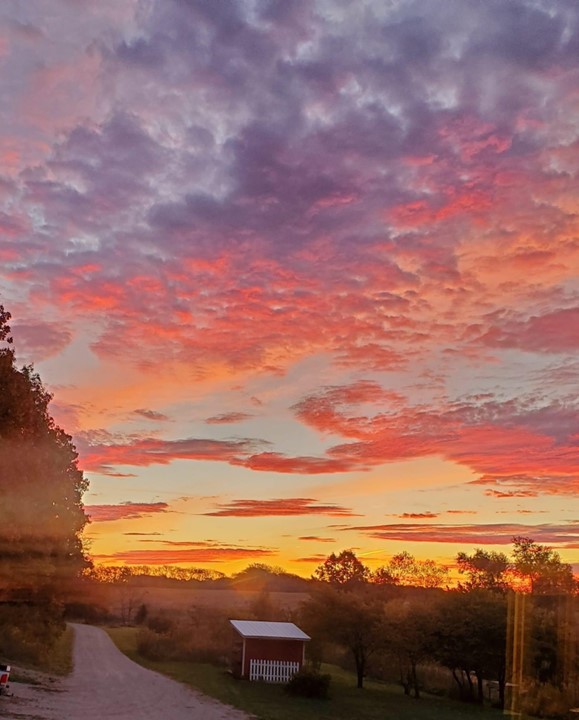 Photograph by Karla Uphoff, who lives in El Paso, Illinois. She is best known for her oil paintings of portraits and still life realism.
†
†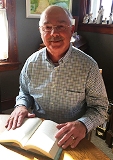 Michael Escoubas began writing poetry for publication in August of 2013, after retiring from a 48-year-career in the printing industry. He writes poetry because, early in life, his mother encouraged him. Michael also writes poetry because he believes poetry brings people together and that poets are menders of broken things. Michael is the author of six collections; his newest is Ripples Into the Light, a collection partnered with photographs by Vandana Bajikar and designed to "rest the soul and calm the spirit." Michael and photographer Sara Wadington iare colleagues at Quill and Parchment, an online poetry journal, where Michael is Senior Editor and Book Reviewer and Sara is webmistress.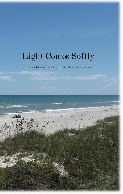 Jo:
A beautiful poem, Michael. So calming, I fall into its peace.
Posted 11/01/2023 11:10 PM
Lori Levy:
So beautiful. Love winking through tree-tops.
Posted 11/01/2023 06:13 PM
carlpalmer:
Lovely, Michael, favorite line: splaying the sky in layers.
Posted 11/01/2023 01:33 PM
KateTompkins:
A welcome breath of peace and tranquility on a chaotic morning.
Posted 11/01/2023 01:16 PM
Anastasia:
So beautiful! And the perfect image to accompany it!
Posted 11/01/2023 12:59 PM
bettiebill:
Another fine piece of writing, Bro!
Posted 11/01/2023 12:49 PM
Judy:
Beautiful!
Posted 11/01/2023 09:51 AM
peggy.turnbull:
ensconced in soft colorationswhat a beautiful phrase. The poems speaks eloquently of my November 1 today.
Posted 11/01/2023 09:45 AM
Joan Luther:
Nature walks with you hand-in-hand feels exactly as it should this time of year! Wonderful words, Michael!
Posted 11/01/2023 09:40 AM
cork:
What is winter's commentary on death? I will think about this question.
Posted 11/01/2023 09:28 AM
rmoline:
Looked out my window to see the sun spotlighting the colors on one hill - the rest in shadows. Inspired me to read the poem for the day. Your poem matched perfectly with what I saw. Thank you!
Posted 11/01/2023 09:05 AM
Wilda Morris:
Another beautiful poem, Michael! Well done!
Posted 11/01/2023 08:32 AM
NormaB:
Thank you, Michael, for reminding me that nature walks with me hand in hand. Very uplifting during these difficult times.
Posted 11/01/2023 08:28 AM