Pumpkin patch.
Mix and match.
Autumn breeze
blows red leaves.
Leaves go crunch.
Children munch.
Corn stalks tied.
Kids wide-eyed.
†
Apple cider.
Spooky spiders.
Goblins and ghosts.
Cobwebs on posts.
Charming spaces.
We paint faces.
Halloween cats
and hanging bats!
†
Pumpkins soon sold.
Worth their weight in gold:
A yearly hitó
Carved and candle lit!


© by Peter Venable.
Used here with the authorís permission.
†
†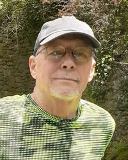 Peter Venable lives in Winston-Salem, North Carolina. A retired addiction clinician, he has been composing poetry for more than 50 years--free and metric, sacred and secular, normal and whimsical. He is the author of one poetry collection, his work has appeared in a number of journals, and he is an active member of the Winston-Salem Writers. When he's not busy helping to take care of his two granddaughters, Peter volunteers at a local prison camp, wins the occasional NC Piedmont Senior Games track and field events, and has been known to sing in local productions of the annual Messiah performance. Learn more about him at petervenable.com.
Wilda Morris:
Wonderful! I especially like how you tied it up with the "seasonal hit" at the end!
Posted 11/01/2023 08:34 AM
Anastasia:
This is delightful, Peter! Happy Halloween!
Posted 10/31/2023 09:00 PM
Judy:
I love poems that are perfect for adults and children!
Posted 10/31/2023 05:11 PM
Lori Levy:
The rhyme works well in this poem.
Posted 10/31/2023 03:04 PM
Adriana:
the first verse is a lovely poem all on its own
Posted 10/31/2023 12:33 PM
Michael:
WOW! I envy your delightful cadences and end-rhymes, Peter. Great closure to a month of seasonal colors, and reminders that the joys of life visit us all year round.
Posted 10/31/2023 09:13 AM
Joan Luther:
I can feel autumn in here. Happy Halloween!
Posted 10/31/2023 06:25 AM