At the edge of these woods,
well north of the city,
begins another world.
We often see its emissaries,
white tailed deer,
browsing in man's domains,
but its other denizens
are more secretive.
Occasionally a wild turkey
bursts forth,
as if pursued by goblins.
Even more rarely, a red fox
trots untroubled
across an open field,
flaunting its Day-Glo fur.
And rarest of all,
a brown bear appears,
shambling across a clearing.
But you see them all best
if you wait, unmoving,
within their wooded halls.


© by Richard Greene.
Used with the author's permission.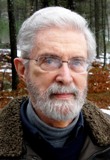 Richard Greene began writing poetry in the 8th grade, inspired by the opening lines of Longfellow's "Evangeline"—"This is the forest primeval. The murmuring pines and the hemlocks / Bearded in moss and in garments green, indistinct in the twilight"—which he was required to read in class. In college, after a classmate deemed Richard's rhyming poem "trite," he stopped writing until, a couple of years later, a class with Henry Rago, subsequently editor of Poetry magazine, inspired him to resume his efforts. But poetry fell by the wayside for almost forty years as a busy career in international development consumed his life. As retirement approached, however, Richard's dedication to poetry returned; he has since published three chapbooks: The Broken Guitar: Poems of War; Becoming Old: Poems of Aging; Painting with Words: Landscapes in Verse; and one full -length collection, To Talk of Many Things: Selected Poems. Richard, who lives in Nyack, New York, shares a "poem of the week" with anyone interested; get on his mailing list by requesting it at greeneplace@gmail.com.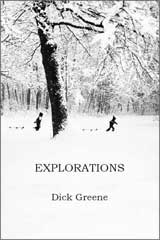 Jancan:
Richard Greene thrills me with those strong verbs!
Posted 11/05/2023 08:02 PM
Lori Levy:
Great depiction of this other world in the woods.
Posted 11/05/2023 02:55 PM
Anastasia:
"wait, unmoving, within their wooded halls." They were here firstwe've moved into their space. Thank you for this lovely walk in the woods, Richard!
Posted 11/05/2023 02:44 PM
cork:
Last week, a ruffed grouse visited.
Posted 11/05/2023 01:00 PM
CynthiaB:
Lovely ending!
Posted 11/05/2023 11:41 AM
CamilleBalla:
A wonderfully crafted poem that takes me within the wooded halls.
Posted 11/05/2023 10:47 AM
Sharon Waller Knutson:
I related to this poem because I live in a wildlife habitat. When I walk on my door or hike, I often see a deer or even a herd standing a few feet away and I freeze. If I move a finger, they're gone. This stanza spoke to me: But you see them all best if you wait, unmoving, within their wooded halls.
Posted 11/05/2023 09:19 AM
Larry Schug:
I hope your words inspire many to Pay Attention
Posted 11/05/2023 08:32 AM
Wilda Morris:
Yes - staying still and silent in the woods can pay off!
Posted 11/05/2023 07:34 AM
Joan Luther:
Enjoyed the stroll within their wooded halls
Posted 11/05/2023 07:15 AM
KinVT:
Nice imagery & true advice.
Posted 11/05/2023 07:07 AM
Jonah:
Very Good! May I say, it's simple but effective.
Posted 11/05/2023 05:41 AM