We havenít gotten into winter yet,
but the leaves from the trees and bushes
have gone, and some from the hedges, too,
and, with them, the illusion of property.
When I step outside, I can see the land
flowing down toward the rivers,
and those little barriers we planted to say
"this is ours and not yours" have disappeared.
†
Those embarrassments weíve tried to hide
about ourselves reveal themselves, too.
My weedy garden behind the garage.
My neighborís car up on blocks
and rusted through, too far gone
for the repair job he promised his daughter.
Down the street a weight bench set up
behind the house is covered in rotting leaves.
This is who we are.

Or it is, at least, some of it.
We are also what we show the world:
pumpkins inviting children and friends,
candles in windows, and the reflected light
from a family eating dinner inside.
We are even the potted amaryllis my mother
placed on her porch because she knew
her cousins were coming later that evening,
and she hadnít seen them for years.


© by John Brantingham.
Used here with the authorís permission.
†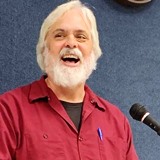 John Brantingham is a writer, speaker, and educator. The first poet laureate of the Sequoia and Kings Canyon National Parks, his work has been featured in hundreds of magazines and he is the author of 21 books of poetry, memoir, and fiction; his latest is My Dead (Kelsay Books, 2023). John lives in Jamestown, New York; learn more about him at https://www.johnbrantingham.com/.
†
BAMars:
The middle stanza, minus the rusty car, could have been written by me. So many ideas here in a seemingly simple piece. Beautiful, John.
Posted 11/07/2023 04:34 PM
Denise:
You brought me into your neighborhood as I saw everything described so well, the big reveal. It could be any of our neighbors unfinished ideas or abandoned items. Enjoyed sharing the unhidden truths of your poem.
Posted 11/07/2023 11:37 AM
KateTompkins:
Love it, especially the "illusion of property."
Posted 11/07/2023 08:54 AM
Jancan:
Thought-provoking, humorous, realistic, descriptive
Posted 11/06/2023 07:08 PM
Lori Levy:
Love the humor and the insights in this poem.
Posted 11/06/2023 12:17 PM
KevinArnold:
Great fun.
Posted 11/06/2023 09:51 AM
David:
This is also who we are: people with the ability to write insightful and meaningful poetry. Very good.
Posted 11/06/2023 09:17 AM
Michael:
Thoughtful, unique, rendering of the season and a needed "unveiling" of truth about ourselves and about our lives. Nicely done, John.
Posted 11/06/2023 08:49 AM
Gilbert Allen:
A thoughtful meditation upon this distinctive time of the year.
Posted 11/06/2023 08:27 AM
Larry Schug:
I've been thinking similar thoughts since the deciduous trees decided to disrobe. I enjoy being able to see through the woods and every tree is it's own person this time of year. I especially like the first verse.
Posted 11/06/2023 08:17 AM
NormaB:
I love this poem. It speaks of our ordinary selves, our everyday lives but so much more!
Posted 11/06/2023 08:01 AM