Over 200 prospective jurors
swell the room. Good Americans.
The court clerk praises us for coming.

Congratulations for stepping up –
for filing behind our military on the front
line of valor. She applauds us

for keeping our streets safe, helping
our neighbors as we might one day
need help. A filmstrip validates

how we are upholding our Constitution,
preserving our freedom and justice.
Now who here feels that jury duty

poses an extreme hardship?
Half the room forms a line
to leave.


This poem first appeared in Verse-Virtual.
Used here with permission.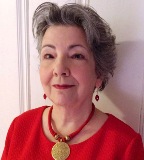 Alarie Tennille was born and raised in Portsmouth, Virginia. A Phi Beta Kappa, she graduated from the University of Virginia in the first class that admitted women. Alarie and her husband, graphic artist Chris Purcell, live in Kansas City, Missouri, where she serves on the emeritus board of The Writers Place. Alarie believes her writing skills were born from her parents' knack for storytelling–long, meandering tales she asked to hear again and again. "There was usually dance music in the background," she says, "the sounds of cicadas, and the clink of ice in glasses of sweet tea. Weekends brought rolling surf, laughing gulls, and the calliopes of amusement park rides." Alarie's third and most recent poetry collection is Three A.M. at the Museum. She was honored to receive a 2020 Fantastic Ekphrastic Award from The Ekphrastic Review. Learn more about her at www.alariepoet.com.


Alarie Tennille:
Thank you all for your kind comments. Larry Schug, I've enjoyed your poems on YDP for years, and appreciate your frequent support of my work.
Posted 11/09/2023 05:18 AM
Jancan:
A reality cleverly conveyed!
Posted 11/07/2023 10:33 PM
Lori Levy:
So true.
Posted 11/07/2023 02:05 PM
Sharon Waller Knutson:
I was so happy to find an Alarie Tennille poem on YDP. It's been a long time since we've heard her sparse strong voice telling us the truth we don't want to admit. I love this poem that delivers a punch in the gut in the last line.
Posted 11/07/2023 10:17 AM
Tom Sharpe:
Oh so true. 10% do the work, 90% complain about how its done.
Posted 11/07/2023 09:56 AM
KevinArnold:
Oh, my. A little realism to punctuate the dream.
Posted 11/07/2023 09:45 AM
cork:
What is irony?
Posted 11/07/2023 09:27 AM
Larry Schug:
Oh, that last line! (and the lines before it).
Posted 11/07/2023 08:30 AM
Wilda Morris:
Ah, the irony! Alarie draws the reader in then the surprise WHAM at the end.
Posted 11/07/2023 07:31 AM