Student Writers

no fogged window
left untouched
by artistic young riders
on the yellow school bus

Maternal Love

mother proud
tattooed son
wears a heart
with "MOM"
inked inside

Clean Machine

the fingered note,
"Wash Me",
on the truck's rear door
demands the driver
to erase the message

Etched in Stone

guarding
until dry
his fresh sidewalk
canvas
from those
bearing initials


© by Carl Palmer.
Used here with the author's permission.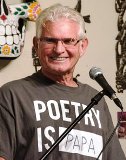 Carl "Papa" Palmer lives in University Place, Washington now, but grew up on Old Mill Road (the name of his latest book) in Ridgeway, Virginia. Retired from the military and the Federal Aviation Administration (FAA), he enjoys being a Franciscan Hospice volunteer and being "Papa" to his grand descendants. Carl is the author of nine chapbooks and his work has been published in more than 200 journals around the world. His motto is "Long Weekends Forever!"
Anastasia:
Fun, and so true!
Posted 11/10/2023 11:44 PM
MLove:
Anyone else play "Connections" from NY Times? This sounds like a great category - expanded into poetry.
Posted 11/10/2023 03:40 PM
Lori Levy:
Interesting perspective of words "not on paper."
Posted 11/09/2023 02:13 PM
Arlene Gay Levine:
Loved all your witty titles, Carl, and enjoyed this creative, fun poem.
Posted 11/09/2023 01:49 PM
carlpalmer:
and a big THANKS to you all floating in my bowl of alphabet soup.
Posted 11/09/2023 01:41 PM
cork:
The yellow school bus just drove by.
Posted 11/09/2023 09:24 AM
Michael:
Congratulations Carl, so original and yet I bet most, if not all of us, has experienced each item in your poetic listing of good things. Fine poem.
Posted 11/09/2023 09:09 AM
NormaB:
Brief bits of life poetically expressed!
Posted 11/09/2023 08:47 AM
Wilda Morris:
Fun poem!
Posted 11/09/2023 08:30 AM
Joan Luther:
Poems within a poem.enjoyed these unwritten, written words.
Posted 11/09/2023 07:16 AM