The November sun invites me,
And although the chill wind smites me,
I will wander to the woodland
Where the laden trees await;
And with loud and joyful singing
I will set the forest ringing,
As if I were king of Autumn,
And Dame Nature were my mate, —

While the squirrel in his gambols
Fearless round about me ambles,
As if he were bent on showing
In my kingdom he'd a share;
While my warm blood leaps and dashes,
And my eye with freedom flashes,
As my soul drinks deep and deeper
Of the magic in the air.

There's a pleasure found in nutting,
All life's cares and griefs outshutting,
That is fuller far and better
Than what prouder sports impart.
Who could help a carol trilling
As he sees the baskets filling?
Why, the flow of song keeps running
O'er the high walls of the heart.

So when I am home returning,
When the sun is lowly burning,
I will once more wake the echoes
With a happy song of praise, —
For the golden sunlight blessing,
And the breezes' soft caressing,
And the precious boon of living
In the sweet November days.


This poem is in the public domain.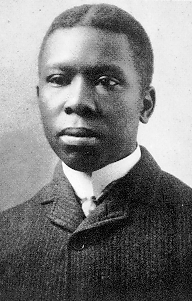 Paul Laurence Dunbar (1872-1906) was from Ohio. He wrote his first poem at the age of six, was editor of his high school newspaper, and published his first book at twenty. His writing attracted attention from the very beginning, and Paul became well-known in both America and around the world. Like James Whitcomb Riley, who was a fan of his young contemporary's work, Paul wrote many of his poems in dialect. Besides a dozen books of poetry, Paul wrote four short story collections, five novels, a play, and the first Broadway musical ever written and performed by African-Americans. A tremendously successful poet whose work was being published in all the major literary publications of his day, Paul's life was cut tragically short by tuberculosis.
Darrell Arnold:
When I see Dunbar's name come up on Jayne's intro to the poems, I can't wait to click on it and see another beautifully crafted, brilliantly conceived, thoughtful poem. I reckon it's time I ordered Dunbar's book of poetry.
Posted 11/15/2023 12:13 AM
Anastasia:
What a delightful poem, and a perfect description of a delightful day! Thank you, Jayne!
Posted 11/10/2023 11:43 PM
Michael:
WOW! Would that I could rhyme as well as Mr. Dunbar . . . what a delight!
Posted 11/10/2023 05:28 PM
Jancan:
To say merely that Dunbar was a great poet would be an understatement! This skillfully-written poem flows like a lovely brook and thrills me to the core!
Posted 11/10/2023 10:37 AM
Tom Sharpe:
Love the rhythm and the rhyme And the story of this time
Posted 11/10/2023 09:55 AM
paradea:
I love this poet's work!!
Posted 11/10/2023 09:24 AM
Wilda Morris:
A beautiful poem! Thanks for sharing it.
Posted 11/10/2023 08:54 AM
Larry Schug:
We seem to have "evolved" to the point that we get more pleasure from our phones tan we would nutting, as described in this magnificent poem. Maybe Dunbar's message from the past will inspire a modern person to learn from it. I think he gained more knowledge in an afternoon a life than some of us gather in a life time (ok,slight exaggeration). I very much like this poem.
Posted 11/10/2023 07:58 AM
Jonah:
Perfect! I now have something to strive for!
Posted 11/10/2023 07:12 AM