In the last months,
Hospice sent a music therapist
to sing to you.
Knowing your twenty-one-year service,
she sang all three verses
of the Marine's Hymn.
We saw the tears in your eyes,
watched your spirit stand at attention
and salute.


This poem first appeared in the Goose River Anthology (2021).
Used here with permission.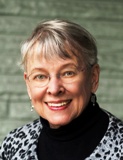 Peggy Trojan published her first poem when she was 77. (She's now 90.) Retired from teaching English, she lives in the north woods of Wisconsin next to a trout stream, where she writes and tends a raspberry patch so she can make jam. Peggy is the author of two full-length poetry collections and five chapbooks. Her newest release, PA, won second place in the 2022 Wisconsin Fellowship of Poets Chapbook Contest and won an Honorable Mention in the Poetry category of the 2022 Northeast Minnesota Book Awards.

Wilda Morris:
Beautiful!
Posted 11/12/2023 08:02 AM
Jancan:
This is so expressive and moving!
Posted 11/11/2023 10:21 PM
Anastasia:
This made me cry. Thank you for posting it, Jayne.
Posted 11/11/2023 08:22 PM
Lori Levy:
Wow! So powerful.
Posted 11/11/2023 01:12 PM
cork:
A perfect poem for the 11th month, the 11th day, and the 11th hour.
Posted 11/11/2023 11:34 AM
Shoshauna Shy:
Very moving, Peggy. Well-done!
Posted 11/11/2023 10:23 AM
Tom Sharpe:
Absolutely. To all of you who are veterans, thank you for you service.
Posted 11/11/2023 09:59 AM
pwax:
Wonderful ending!
Posted 11/11/2023 09:47 AM
Sharon Waller Knutson:
Happy to wake up to a Peggy Trojan poem. Her poems always hit me in the heart, Loved this sparse powerful poignant poem. I can relate since my father and father-in-law were World War II vets and my son was a sailor. Favorite line: "We saw the tears in your eyes, watched your spirit stand at attention and salute."
Posted 11/11/2023 09:44 AM
KevinArnold:
Yes, perfect for the day.
Posted 11/11/2023 09:26 AM
Michael:
You captured the "spirit" of the moment with a truly memorable poetic moment. Thank you, Peggy.
Posted 11/11/2023 08:39 AM
Judy:
Very moving!
Posted 11/11/2023 08:20 AM
forrsher2:
Thank you Peggy and Jayne. From a vet.
Posted 11/11/2023 08:09 AM
Larry Schug:
I honor you, fellow veterans. Thank yo for the poem, Peggy.
Posted 11/11/2023 07:54 AM
Rob:
A beautiful, poignant poem! I have lovely, sad memories of music therapists coming to hospice for both of my parents. You've captured the experience so well in your work!
Posted 11/11/2023 07:21 AM